Podrobnosti
EK®, the premium water-cooling gear manufacturer, is launching the EK-Quantum Reflection² 7000D D5 PWM D-RGB - Plexi, a fully integrated water-cooling reservoir, coolant routing, and pump solution made to fit several Corsair cases. This distro plate is specifically designed to provide an advanced water-cooling solution with a market-leading D5 pump for users building custom liquid cooling loops with Corsair 7000D cases. This Reflection² distribution plate is EK-Matrix7 compatible.
Supported Corsair cases:
7000D AIRFLOW
iCUE 7000X RGB Tempered Glass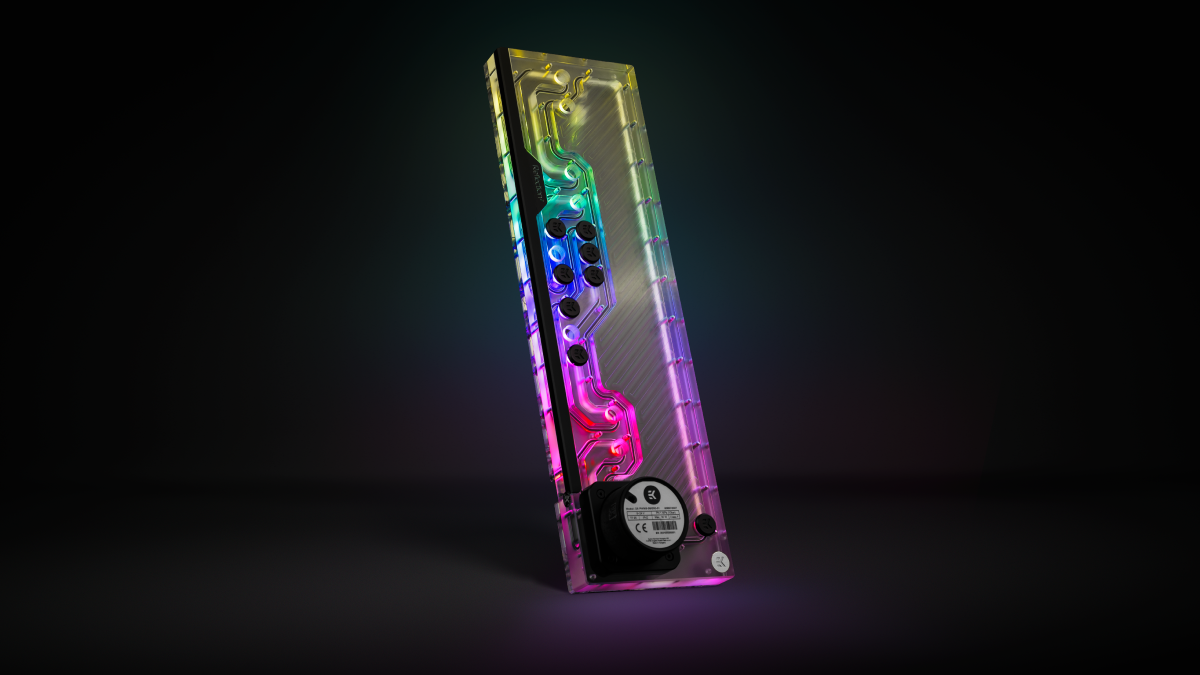 The EK-Quantum Reflection² 7000D D5 PWM D-RGB offers multiple industry-standard G1/4" threaded inlets and outlets. The placement of these inlets and outlets is perfectly aligned to match the water-cooled PC components and minimize the number of bends the user has to make in order to create the perfect hardline loop. The distro plate synergizes well with the EK-Loop Pre-Bent acrylic and metal tubes, further simplifying the loop-building process.

The radiator compatibility per case is as follows:
Front: Up to EK-Quantum Surface X360
Top: Up to EK-Quantum Surface X360

Engineered to be mounted next to the motherboard, the EK-Quantum Reflection² 7000D D5 PWM D-RGB – Plexi fits elegantly within Corsair 7000D and 7000X cases. The built-in addressable D-RGB LED strip runs down the unit's entire length, while the anodized black aluminum cover hides the unwanted LED hotspots. The installed addressable D-RGB LED strip connects to the motherboard 5V D-RGB (A-RGB) header via an industry-standard connector. It is compatible with all major motherboard vendor software for a coordinated lighting effect.

Reservoir:
– Dimensions with the attached pump (W x D x H): 135 x 76 x 464mm
– Reservoir volume: ~440ml
– D-RGB LED count: 22
– D-RGB cable length: 450mm
– D-RGB connector standard 3-pin (+5V, Data, Blocked, Ground)
Technical specifications:
– Motor: Electronically commuted spherical motor
– Rated voltage: 12V DC
– Power consumption: 23W
– Maximum pressure head: 3.9m
– Maximum flow: 1500L/h
– Maximum system temperature: 60°C
– Materials: Stainless steel, PPS-GF40, EPDM O-rings, Aluminum oxide, hard coal
– Power connector: SATA and 4-pin PWM FAN connector
Operational Regime:
– PWM duty cycle: ~ 20-100%
– Default behavior: Runs at 100% duty cycle when no PWM feedback signal is present
Enclosed:
- EK-Quantum Reflection² 7000D D5 PWM D-RGB - Plexi
- Mounting mechanism and tools
- 10x MS - Quantum Plug - Ni (preinstalled)
- 10x EK-Quantum Torque Plug Cover - Black (preinstalled)
Made in Slovenia - EU!
PLEASE NOTE:
EK-Matrix7 compatible.
The Quantum Reflection² distribution plates are designed around Quantum Torque fittings and EK-Quantum Surface radiators.
The D5 pump is water lubricated and it must not be run dry; otherwise, permanent bearing damage can occur.
The aluminum oxide mentioned in the materials specification for the D5 pump is not exposed to water and is perfectly safe to run in copper/nickel loops.
Dodatne informacije
| | |
| --- | --- |
| Opcija | Plexi |
| Threads | G1/4 |
Odločeni za nakup izdelka?
Morda vas bodo zanimali naslednji izdelki