Details
The EK-Quantum Power² Kit P360 Series – AMD is the ultimate fully addressable D-RGB liquid cooling kit, featuring premium EK-Quantum Surface radiators and EK's latest flagship CPU water block designed specifically for the AMD® AM5 Socket and Ryzen 7000-series processors. Dedicated to all users seeking the most powerful water-cooling kit on the market, it comes decked out with all-Quantum Line liquid cooling products that share the same design language and offer full D-RGB illumination.

These Quantum Power² Kits make the loop-building experience easier, thanks to the included extra accessories such as the foldable filling bottle, tube cutter, and multi-Allen key tools. Additional benefits also come from the included dye pack for creating your own coolant color, two 90-degree Torque angled adapters, versatile mounting brackets, and reservoir tube clamps for alternative mounting options.
With no worries about compatibility issues or uncertainties about the right amount of fittings or tube length, this kit is the perfect starting point for newcomers to the world of custom liquid cooling.

This kit brings the following components, selected from our wide range of quality products:
EK-Quantum Velocity² D-RGB - AM5 Nickel + Plexi - High-performance premium quality CPU water block for the AMD AM5 socket platform. It features a next-generation cooling engine that is socket-specific, tailored to the IHS and die layout of Ryzen 7000-series CPUs. This CPU water block is EK-Matrix7 compliant and is mounted via the patent-pending EK Exact Mount system. Embedded in the Velocity² is a socket-specific low hydraulic flow restriction and high-performance cooling engine, which is achieved by a combination of mounting pressure and cold plate geometry tailored for the IHS and die layout of the AMD AM5 socket. The product also features mesmerizing D-RGB LED lighting, compatible with major motherboard RGB sync technologies. Notably, Velocity² products have earned prestigious awards, including iF Design, European Hardware Awards, CES 22, and others.
EK-Quantum Surface P360M – Black - With a thickness of 44mm, they are the ultimate all-rounder radiators for low noise and high performance. Equipped with four G1/4"threaded connection ports and an additional fifth G1/4"port on the end-tank, which can be used for loop draining and bleeding the air. The radiator features sixteen 2mm-wide copper tubes spanning its entire length, ensuring optimal coolant flow. High-grade non-louvered copper fins, boasting 18 FPI density, strike the perfect balance between thermal transfer and air resistance, guaranteeing optimal performance even at low fan speeds. To maximize cooling, a Push/Pull setup can be utilized. Notably, the EK-Quantum Surface P Radiator won the "Highly Recommended" Award by TechPowerUp.
EK-Loop Fan FPT 120 D-RGB – Black (550-2300rpm) - A 120mm addressable RGB high-static pressure computer cooling fan specifically designed for radiator cooling, providing a low noise profile while delivering optimal cooling performance. The fluid dynamic bearings ensure a long lifespan and silent operation during low-power scenarios, while precise PWM allows for on-demand performance. Full Pressure Technology (FPT) utilizes a full frame design that completely seals the radiator, preventing the air escape. Additionally, OmniLink enables easy daisy-chaining of fan power, D-RGB, and pump power through a single cable. The Kit will contain 3 of these.
EK-Quantum Kinetic TBE 200 D5 PWM D-RGB – Acetal - High-performance Quantum pump-reservoir combo unit with rich D-RGB lighting. The core of the combo unit is the market-proven Xylem D5 PWM water pump. The unit features a fully rounded design thus offering greater usability, allowing installation at any angle within 360° of rotation. A special rubber shock absorber is used to de-couple the main pump body from the mounting clip for silent operation, free of vibration-induced noise. Additionally, horizontal and vertical positioning is supported for easier tube routing possibilities with a multitude of ports to choose from.
EK-Quantum Torque STC-10/16 – Black - New minimalistic 10/16mm (ID/OD) soft-tube compression fittings designed for use with various flexible soft tubing. The locking ring compresses the tubing wall beneath it, ensuring the flexible tube remains securely attached to the fitting's barb. The fittings feature grooves on the outside for easier hand tightening. Notably, EK-Quantum Torque series products have received the prestigious iF Design Award, with a robust and industrial aesthetic that sets the Torque family apart, highlighting the precise manufacturing processes used in their creation. The Kit will contain 6 of these.
EK-Quantum Torque Rotary 90° – Black - The revolvable angled (90°) adapter fittings with G1/4" threads feature a cylinder shape that guarantees sturdiness and zero movements in the revolvable joint, making them ideal for effortlessly navigating difficult tube routes. These Quantum Line adapters are crafted from CNC machined brass with a high-quality Satin Black finish, and the seals are made with quality rubber O-rings. They are also part of the EK-Quantum Torque series products, which have received the prestigious iF Design Award. The Kit will contain 2 of these.
EK-Loop Soft Tube 10/16mm 3m – Clear - High clarity transparent soft tubing, designed for demanding customers seeking practicality and ease of use. It offers high transmissibility to UV-Type A and UV-Type B for compatibility with UV reactive coolants, while preventing deterioration and discoloration with low transmissibility to UV-Type C. Additionally, the tubing features high resistance to leaching and uses a non-Phthalate plasticizer. The tubing is 3 meters long.
EK-CryoFuel Clear (concentrate 100mL) rev.2 - EK-CryoFuel Clear is a pure, non-toxic coolant based on the patent-pending chemical formula, which prevents the creation of any sediments in the liquid cooling loop. The 100 mL concentrate is to be mixed with distilled water in a ratio of 1:9 to form 1 L of ready-to-use coolant. To make mixing the concentrate with distilled easier, EK recommends the use of filling bottle, which is included in the package.
EK-CryoFuel Dye Pack - With this compact creativity pack, users can effortlessly transform their clear or white EK-CryoFuel coolants into personalized, one-of-a-kind colors. The package includes Red, Yellow, and Blue dye bottles, allowing you to apply them to your base coolant and create stunning custom colors and shades.
EK-ATX Bridging Plug (24-pin) - Ideal for powering up 12v Water Pumps without relying on mainboard power. Compatible with 24-Pin ATX PSUs.
EK-D-RGB 6-Way Splitter Cable - This splitter cable allows you to connect up to 6 D-RGB products to a single source header, whether it's on the motherboard or on the D-RGB controller of your choice.
EK-Cable Y-Splitter 3-Fan PWM (10cm) - A fully sleeved simple adapter used to connect three DC or PWM fans to a single motherboard 4-pin PWM or 3-pin DC FAN connector. Please note that RPM sensing will only work for one fan when using this cable.
EK-RES X3 Holder 60mm - Spare Reservoir Holder made from POM Acetal for cylindrical reservoirs.
EK-Loop Soft Tube Cutting Tool - A simple tool designed for making straight tube cuts, ensuring safety and ease of use.
EK-Loop Foldable Filling Bottle - Extremely convenient for mixing EK-CryoFuel concentrates with distilled water, the telescopic tube of the filling bottle can reach even the most remote and crammed fill ports.
EK-Loop Uni Pump Reservoir Bracket – 120mm - The mounting adapter allows for easy installation of the pump-reservoir combo unit to any 120mm fan mounting hole pattern. It offers both horizontal and vertical orientations, and the offset feature enables precise placement for better clearance and tube routing.
EK-Loop Multi Allen Key (6mm, 8mm, 9mm) - A versatile multi-purpose tool that replaces the standard 6mm, 8mm, and 9mm Allen keys, and can also be used to operate acetal plugs with the line-style groove. This key not only replaces all crucial Allen key formats used for building a liquid-cooled PC but also helps protect your liquid cooling gear.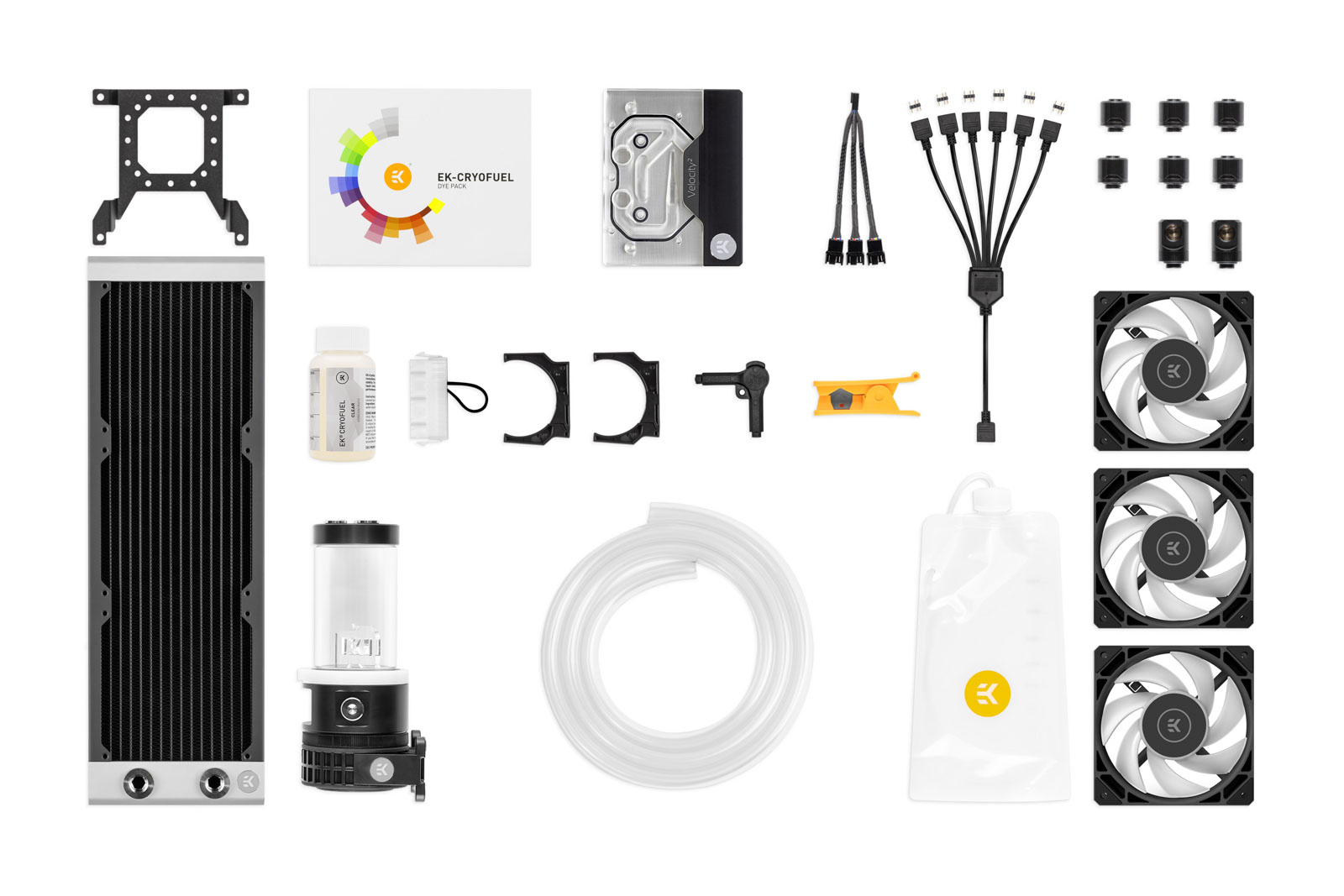 Addressable RGB Lighting
The integrated addressable D-RGB is compatible with popular RGB sync technologies from all major motherboard manufacturers. The arrow marking on the 3-pin LED connector is to be aligned with the +5V marking on the D-RGB(A-RGB) header.

The kit is easy to install, use, and maintain, and a thorough installation manual is included. Every item in this kit can be purchased separately. Further descriptions and specifications of individual items can be found in EK Webshop.
The majority of components have been pre-assembled, resulting in a quick and painless installation procedure. Once installed, this kit is a full custom loop solution. It can be upgraded with additional water blocks and components, such as additional radiators.
EK-Quantum Power² Kit P360 Series – AMD complete list of items:
- CPU water block: EK-Quantum Velocity² D-RGB - AM5 Nickel + Plexi
- Radiator: EK-Quantum Surface P360M - Black (Triple)
- Radiator fan: EK-Loop Fan FPT 120 D-RGB - Black (550-2300rpm) (3pcs)
- Water pump-reservoir combo: EK-Quantum Kinetic TBE 200 D5 PWM D-RGB - Acetal
- Tubing: EK-Loop Soft Tube 10/16mm - Clear (3 meters)
- Compression fittings: EK-Torque STC-10/16 - Black (6 pcs)
- Angled adapters: EK-Torque Angled 90° - Black (2 pcs)
- Coolant concentrate: EK-CryoFuel Clear (concentrate 100mL for 1L of coolant) rev.2
- Y-cable splitter: EK-Cable Y-Splitter 3-Fan PWM (10cm)
- D-RGB accessories: EK-D-RGB 6-Way Splitter Cable
- EK-Loop Uni Pump Reservoir Bracket - 120mm
- EK-RES X3 - Holder 60mm (2pcs)
- ATX bridging plug
- EK-Loop Multi Allen Key
- EK-Loop Soft Tube Cutter
- Foldable Filling Bottle
- EK-CryoFuel Dye Pack
This water cooling kit is compatible with the following CPU sockets:
- AMD Socket AM5
Made in Slovenia - Europe!
PLEASE NOTE:
List of components may be subject to change in the future according to EKWB's best practices.
Distilled water needed to dilute the cooling liquid concentrate is not included!
EK recommends at least one 120mm fan and radiator space for cooling one component. For example, if you want to cool CPU and GPU in the same loop, we recommend a minimum of 240mm radiator and two 120mm fans.
Please refer to the motherboard manufacturer manual or D-RGB controller manufacturer manual for LED type compatibility, maximum power load, and maximum allowed LED strip length.
The products are compatible with every major motherboard manufacturer and mainstream D-RGB controller via the 3-pin header.
Additional Info
| | |
| --- | --- |
| Material / Design / Color option | Nickel Plexi |
| Threads | G1/4 |
| Sockets | AM5 |
Decided to buy this product?