Details
The EK-KIT G240 is the ultimate liquid cooling kit dedicated to all users who want to take advantage of their 5.25" drive bays at the best price-performance ratio on the market! Everything you need to assemble your first custom loop. You don't have to worry about compatibility issues or being nervous about the right amount of fittings or tube length. If you are a beginner, this is a great place to start!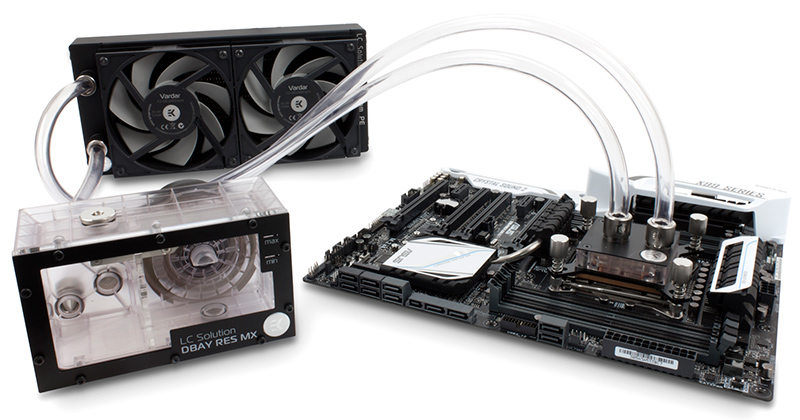 This kit brings the following components, selected from our wide range of quality products:
EK-Supremacy MX - universal CPU water block that fits all modern CPU sockets with a universal mounting mechanism that offers error-preventing, tool-less installation. The result is an easy installation which brings perfect performance every time. Built upon the same cooling engine as EK-Supremacy EVO it offers the same great hydraulic performance and almost identical thermal performance.
EK-CoolStream PE 240 radiator - it gives this kit its name - offers best cooling capacity in the 40mm thick radiator class: Double stack copper fins provide massive surface area while the parallel flow cooling chambers reduce hydraulic flow resistance to a minimum. Built for EK-Vardar 120mm high static pressure fans, these radiators are optimized for maximum heat dissipation across entire fan operational range thus delivering exceptional performance at both low- and high airflow operation.
EK-Vardar - industrial grade high-static pressure computer cooling fan, designed and built primarily for highest-performance computer liquid cooling systems. EK-Vardar is simply the best choice for computer radiator cooling as it provides unmatched performance throughout the entire operating range.
EK-DBAY D5 PWM MX (incl. pump) - this is a cost reduced variant of EK-DBAY D5 high-performance. It features hydraulically improved pump top (volute) for D5 series water pump with an integrated reservoir. This type of design makes the use of two 5.25" drive bay slots in order to provide more room for other components when facing limited space constraints. Made from injection molded transparent MABS polymer, this sturdy, monoblock design guarantees maximum reliability and rigidity!
EK-DuraClear - 2 meters of EK-DuraClear premium-quality clear PVC tubing is included. It is guaranteed to be free of plasticizer leaching related issues and to have long-lasting clarity. 2 meters of tubing is more than enough for a complete loop and you will be left with enough spare to add more liquid cooling parts or reroute your loop if needed.
EK-CryoFuel Clear is a pure, non-toxic coolant based on the patent pending chemical formula, which prevents the creation of any sediments in the liquid cooling loop. The 100mL concentrate is to be mixed with distilled water in ratio 1:9 to form 1L of ready-to-use coolant. To make mixing the concentrate with distilled easier, EK recommends the use of filling bottle (not included) that is also designed to make a loop filling process much easier.
The kit is easy to install, use and maintain, a thorough installation manual is included. Every item in this kit can be purchased separately, further descriptions and specifications of individual items can be found in EK webshop.
The majority of components have been pre-assembled resulting in quick and painless installation procedure. Once installed, this kit is a full custom loop solution. It can be upgraded with additional water blocks and components, such as additional radiators.

EK-KIT G240 complete list of items:
- CPU water block: EK-Supremacy MX UNI (incl. thermal material)
- LED: Twin 3mm LED for water block installation
- Radiator: EK-CoolStream PE 240 (Dual)
- Radiator size: 280 x 130 x 38mm (L x W x H)
- Radiator fan: EK-Vardar F3-120 (1850rpm) (2pcs)
- Water pump-reservoir combo: EK-DBAY D5 PWM MX - Acetal (incl. pump) - TEMPORARY CHANGE!
- Tubing: EK-DuraClear 9,5/12,7mm (3/8'' - 1/2'') (2 meters)
- Compression fittings: EK-ACF Fitting 10/13mm - G1/4 Nickel (6 pcs)
- Coolant concentrate: EK-CryoFuel Clear Concentrate (100mL; for 1L of coolant)
- Y-cable splitter: EK-Cable Y-Splitter 2-Fan PWM (10cm)
- ATX bridging plug
This water cooling kit is compatible with the following CPU sockets:
- Intel LGA-1150/1151/1155/1156
- Intel LGA-2011(-3)
- Intel LGA-2066
- AMD Socket AM4


Made in Slovenia - Europe!
PLEASE NOTE:
List of components may be subject to change in the future according to EKWB's best practices.
Distilled water needed to dilute the cooling liquid concentrate is not included!
EK recommends at least one 120mm fan and radiator space for cooling one component. For example, if you want to cool CPU and GPU in the same loop, we recommend at least 240mm radiator and two 120mm fans.
EKWB recommends the use of fan regulation adapters in case your motherboard does not support fan speed regulation. Such devices are not included in the kit. They can be purchased separately here.
Additional Info
| | |
| --- | --- |
| Material / Design / Color option | Copper Plexi |
| Threads | G1/4 |
| Prepared for LED Diode | 3mm |
| Sockets | Intel, AMD |
| # of Fans | 2 |
Decided to buy this product?
You may also be interested in the following product(s)