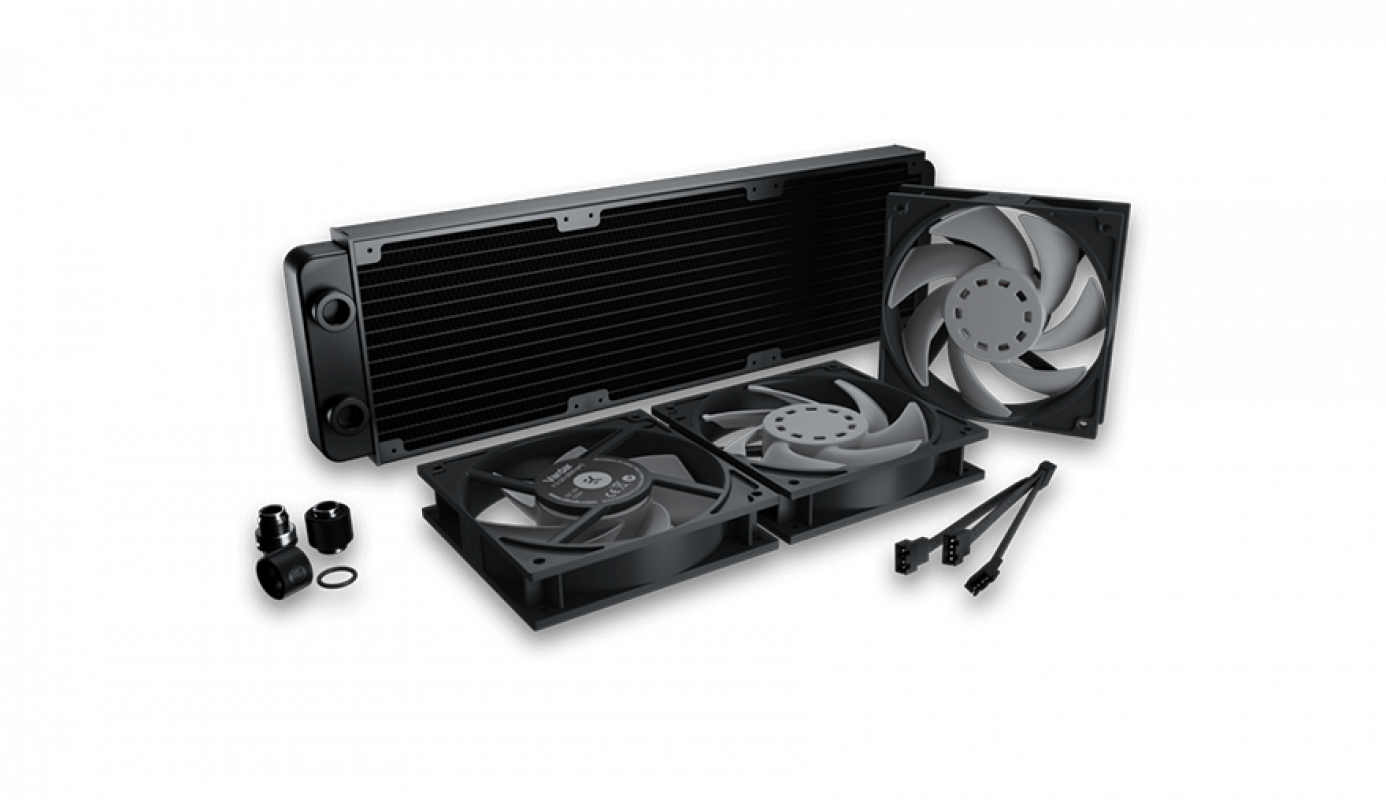 EK-FG 360 Expansion Pack
Product EAN:
3830046992475
End of life
This product is Aluminum-based. It cannot be used with components made of other metals.
Financing Available
Split the purchase amount of 500 EUR/AUD/USD or more in up to 3 interest-free monthly payments with Splitit.
Details
The EK-FG 360 Expansion Pack is a full set of parts for expanding your existing EK Fluid Gaming water cooling kit. It contains all the necessary parts for boosting your EK Fluid Gaming kit to even higher performance and making your PC dead silent. The EK-FG 360 Expansion Pack is not a standalone product.
This expansion pack brings the following components, selected from our existing range of EK Fluid Gaming products:
EK-AluStream SE 360 - The expansion pack gets its name from the EK-AluStream SE 360 radiator it includes. It offers high-class cooling performance for its thickness of just 27.5mm. Dense aluminum fins combined with a slim profile provide a huge cooling surface, while the radiator remains highly compatible with most cases on the market. The EK-AluStream SE 360 radiator is optimized for maximum heat dissipation across the entire operational range of the fan thus delivering exceptional performance at both low and high airflow operation.
EK-Vardar 120 - The included EK-Vardar fans are an industrial-grade high-static pressure cooling fans, designed and built primarily for radiator use with liquid cooling systems. EK-Vardar is simply the best choice for radiator cooling whether you are planning to use it in a push or pull setup, as it provides unmatched performance throughout the entire operating range. The EK-AluStream radiator and the EK-Vardar fans are a perfect match for efficient heat dissipation.
EK-ACF ALU Fitting 10/13mm - Two black EK-ACF ALU Fittings (Advanced Compression Fitting) are 10/13 soft-tube compression fittings designed for use with flexible soft tubing. With a high-quality anodized black finish, the EK-ACF Fittings are an aesthetically appealing and secure option for your cooling loop. The locking ring prevents the flexible tube from being pulled out of the fitting by compressing the tubing wall underneath the ring. These fittings have a low-profile design hence it is recommended to secure the fitting barb using Allen Key 8mm (included with A120, A240 or A240G EK Fluid Gaming kits) to prevent skin damage to your finger tips - barb has no finger grip surface.
EK-FG 360 Expansion Pack scope of delivery and specifications:
- Radiator: EK-Alustream SE 360 (Triple)
- Radiator size: 400 x 120 x 27,5mm (L x W x H)
- Radiator fan: EK-Vardar F3-120 (1850rpm) (3pcs)
- Compression fittings: EK-ACF ALU Fitting 10/13mm - Black (2 pcs)
- Y-cable splitter: EK-Cable Y-Splitter 3-Fan PWM (10cm)


This expansion pack is compatible with the following water cooling kits:
- EK Fluid Gaming A120
- EK Fluid Gaming A240
- EK Fluid Gaming A240G

Made in Slovenia - Europe!
PLEASE NOTE:
EK-FG 360 Expansion Pack is not a standalone product. Ipurposeuse is solely for expanding and existing EK Fluid Gaming A120, A240, A240G, A360G, and A240R kit!
Tubing and additional coolant are not included in the expansion pack!
Decided to buy this product?