Details
Laing DDC-3.2 PWM (Xylem DDC-3.25TPPWM4) high-performance water pump with power management control (via PWM - pulse width modulation) of rotation speed trough motherboard BIOS or dedicated fan controller.
This pump features 3/8" (10mm) non-removable plastic barbs to support any 10mm ID tubing and is compatible with any EK-DDC X-TOP pump top and X-RES series pump reservoir combo unit.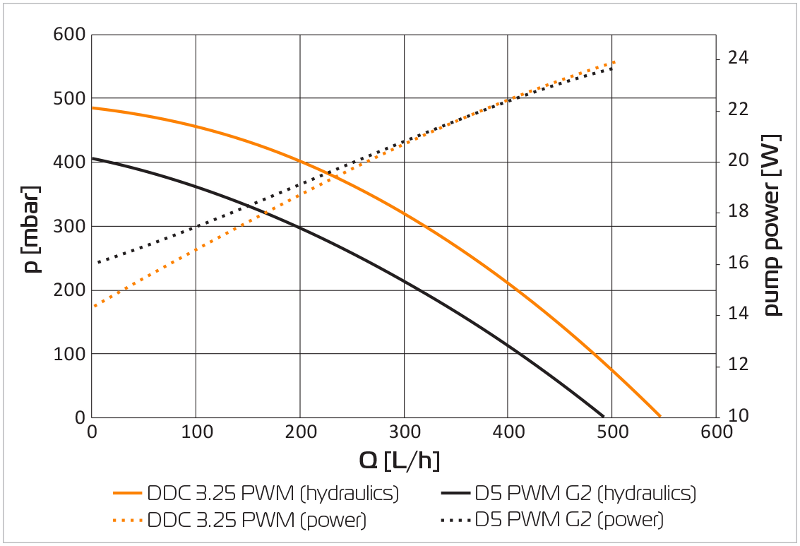 Despite a remarkably small footprint of 2.4" square, the pump features an astounding 5,2m of head to provide superior flow rates in today's most complex liquid cooled systems. The pump is also a high reliability, high pressure industrial pump, featuring a 50,000 hour MTBF (5 year lifetime).
It's compact design, quiet and powerful motor make it ideally suited for heavy duty cooling in environments where space is at a premium.
Technical Specifications:
- Dimensions (W x D x H): 90 x 62 x 38 mm
- Motor: Electronically commuted ball bearing motor
- Rated voltage: 12 V DC
- Power consumption: 18 W
- Maximum head pressure: up to 5.2m
- Maximum flow rate: up to 1000 L/h
- Maximum liquid temperature: 60 °C
- Materials: Stainless steel, PPS-GF40, EPDM O-rings, Aluminium oxide, hard coal
- Power connector: 4-Pin Molex- and 4-Pin PWM FAN connector
Pump made in Hungary - EU!
PLEASE NOTE:
DDC pumps are wet tested before shipping. While they are dried out before packaging, it can occasionally happen that the pump is deliver still slightly wet.
This product should NOT be installed with any aluminum Fluid Gaming parts!
If no PWM signal is present, DDC pump runs at 100% RPM.
Decided to buy this product?
You may also be interested in the following product(s)