Shop The Look - Red Pill
The iconic Lian Li O11 Dynamic XL, filled to the brim with EK liquid cooling components and the oh-so-desired front EK-Quantum Reflection distribution plate. A look and feel that many wish for. The distribution plate lays the foundation for a stunning, professionally built liquid cooling loop with ample performance on tap. It will easily be the centerpiece of any setup.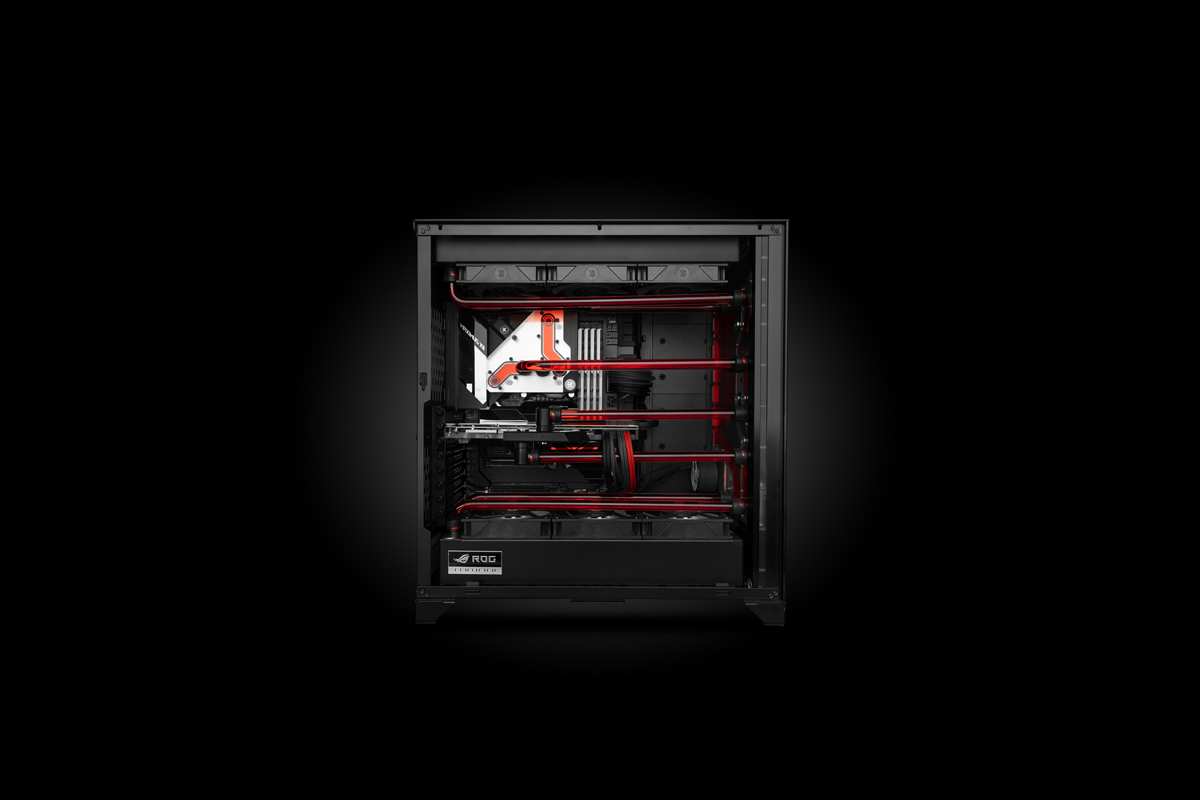 The front distribution plate cleverly integrates the reservoir, a powerful Xylem D5 pump and carefully positioned ports. This streamlines and greatly simplifies the often-arduous process of bending and positioning the hardline tubing. Making horizontal tube runs is a piece of cake now and if a particular component presents some "wrinkles", a few EK-Quantum Torque Rotary Offset adapters will iron them out in a flash.
Bringing the "cool" in liquid cooling, are two thick 360mm radiators: bottom-mounted EK-CoolStream XE 360 and at the top a EK-CoolStream PE 360. Coupled with six EK-Vardar EVO 120ER D-RGB fans, they will keep the system cool and quiet no matter what is thrown at them. Luckily, the case is spacious enough that even with such big radiators, a vertically mounted GPU is possible. Allowing you to show off the GPU water block in all its glory.
The diamond shaped set piece on top of the motherboard is a EK-Quantum Momentum VRM Bridge ROG Maximus XII Formula. It serves as a stylish connection between the EK-Quantum Velocity CPU water block and the integrated VRM water block already present on the motherboard. It blends in beautifully and provides some much-needed contrast. The GPU finds itself adorned by the beautiful EK-Quantum Vector RE RTX water block. The look is rounded off with a nickel plated backplate for some additional bling.
To tie it all together we need some fittings. The choice fell on EK-Quantum Torque HDC 14 Black fittings. They have been further augmented with some red accent rings. A few EK-Quantum Torque Rotary 90 Black adapters were needed for some of the tighter bends. Speaking of bends, some of the bent tubes that connect the radiators could have been avoided with clever use of EK-Quantum Torque Rotary Extenders and 90 adapters. Several segments of straight and pre-bent 14mm acrylic tubing complete the loop.
The overall theme and color can of course be fully customized by exchanging the compressions and accent rings, coolant and editing color profiles of the numerous D-RGB LEDs. But you must admit, with the predominant black color of the various components, red was the obvious accent choice :)
Hardware used in this example build:
PC Case: Lian Li PC-O11D XL
Motherboard: ASUS® ROG MAXIMUS XII FORMULA
Graphics Card: Nvidia GeForce RTX 2080 Ti (Reference design)
RAM: G.SKILL Trident Z
Processor: Intel® Core™ i9-11900K Processor
Cables: Custom Black and Red
You can also check EK accessories that have been used.
Clone Trooper Build Accessories