Shop the Loop - Purple Passion
Take a risk, be bold and show your passion with this build that looks mesmerizing even with no LEDs turned on. Lian Li O11D Mini snow-white compliments the purple theme all around and we made sure to fill it up properly with EK goodies just for you.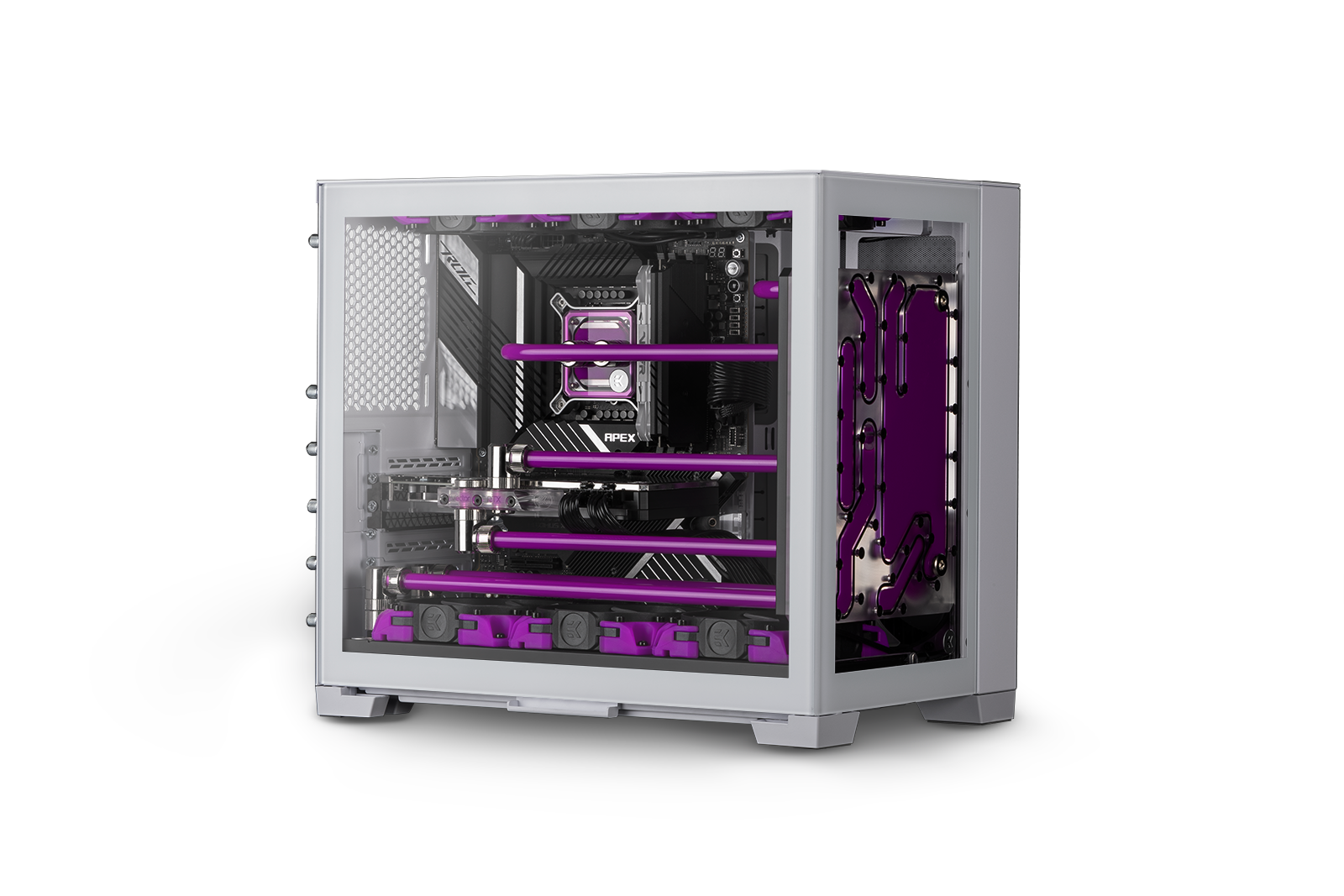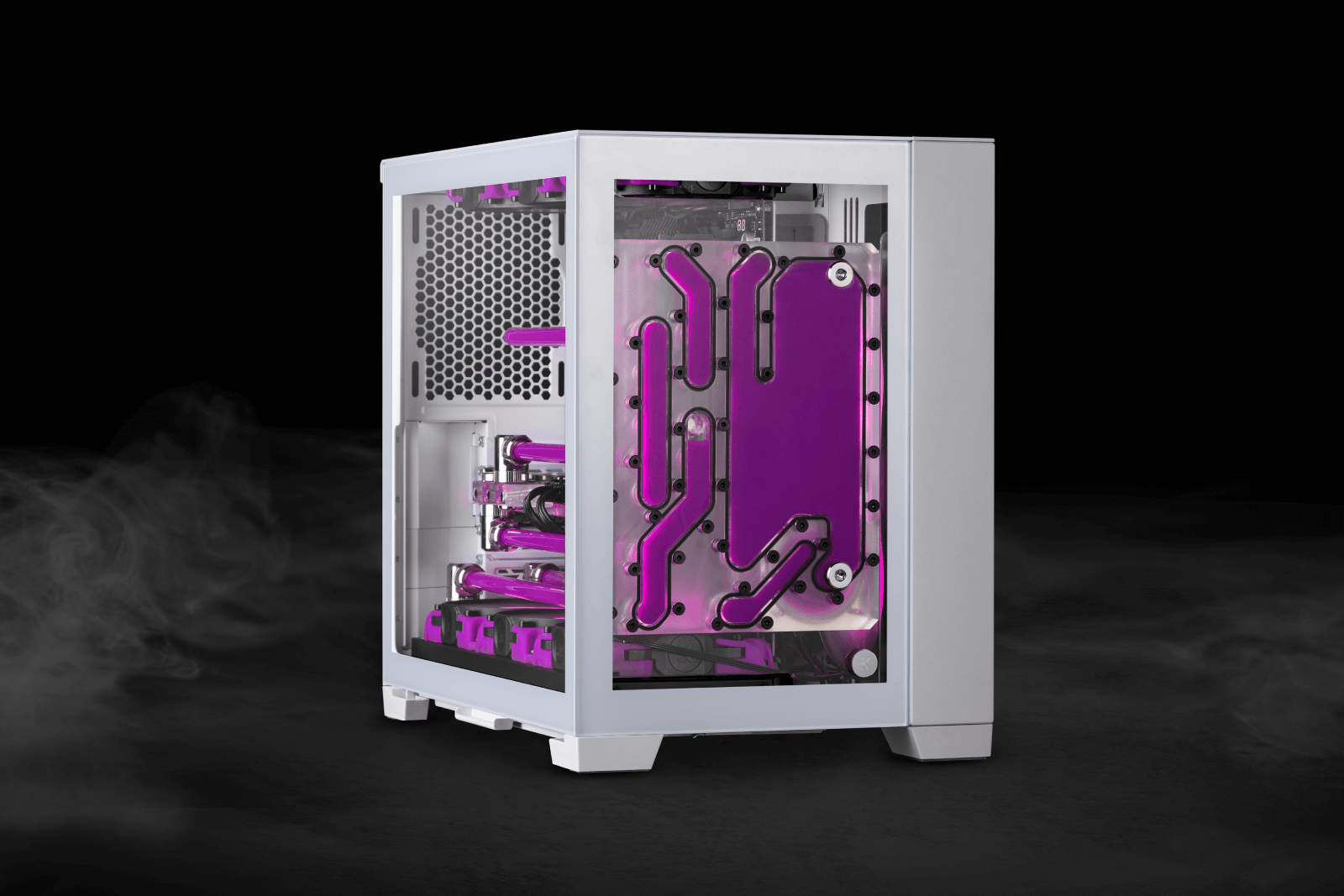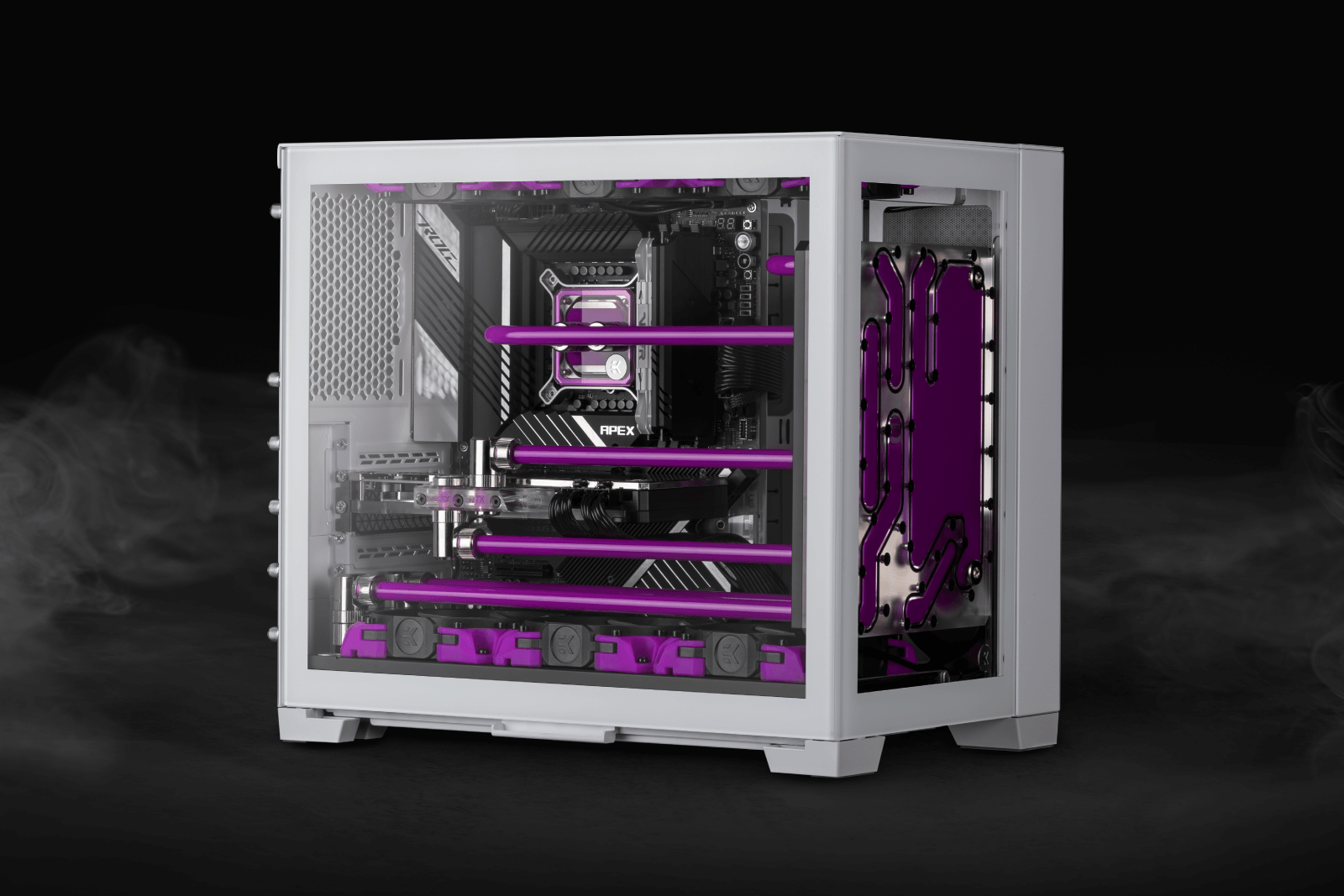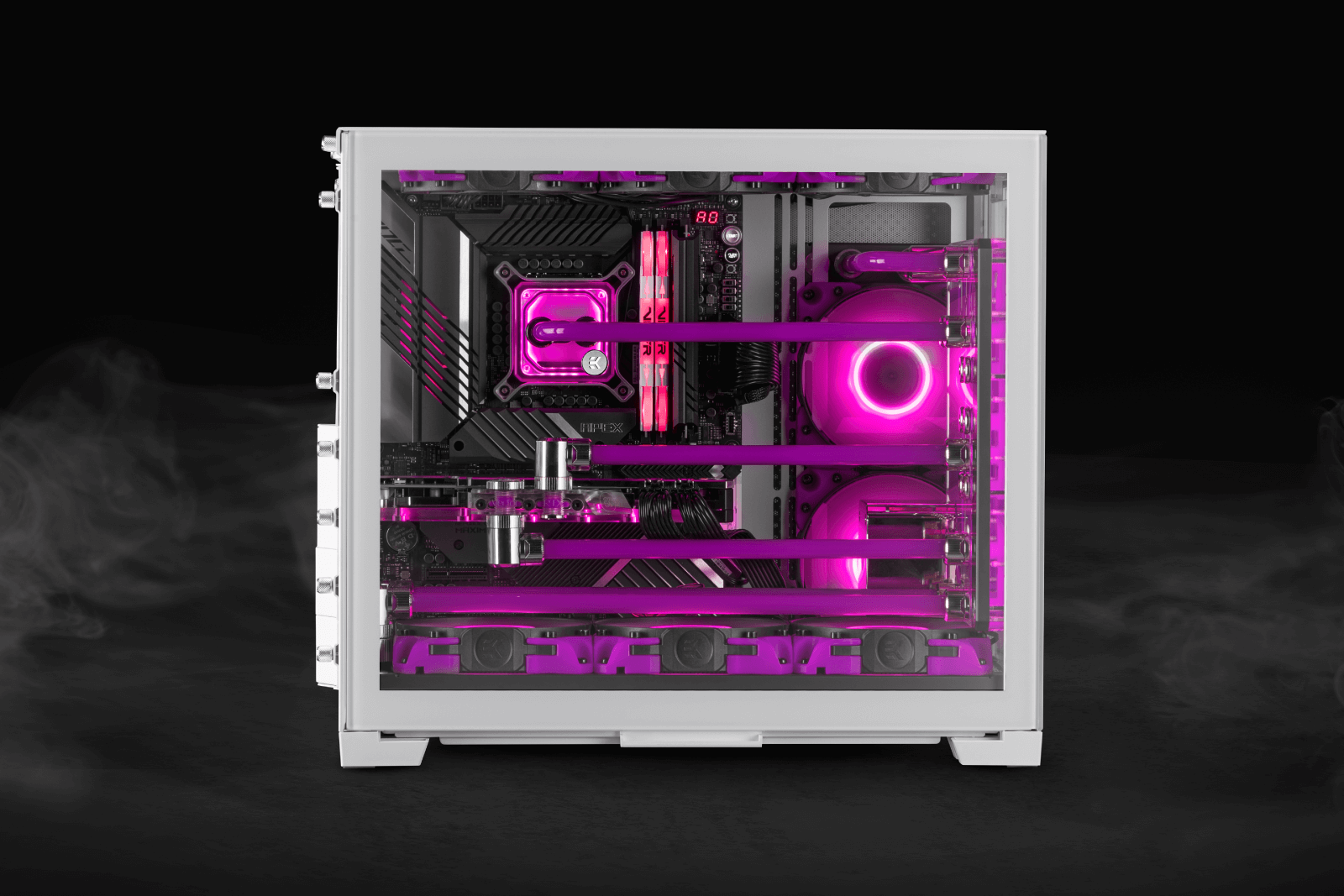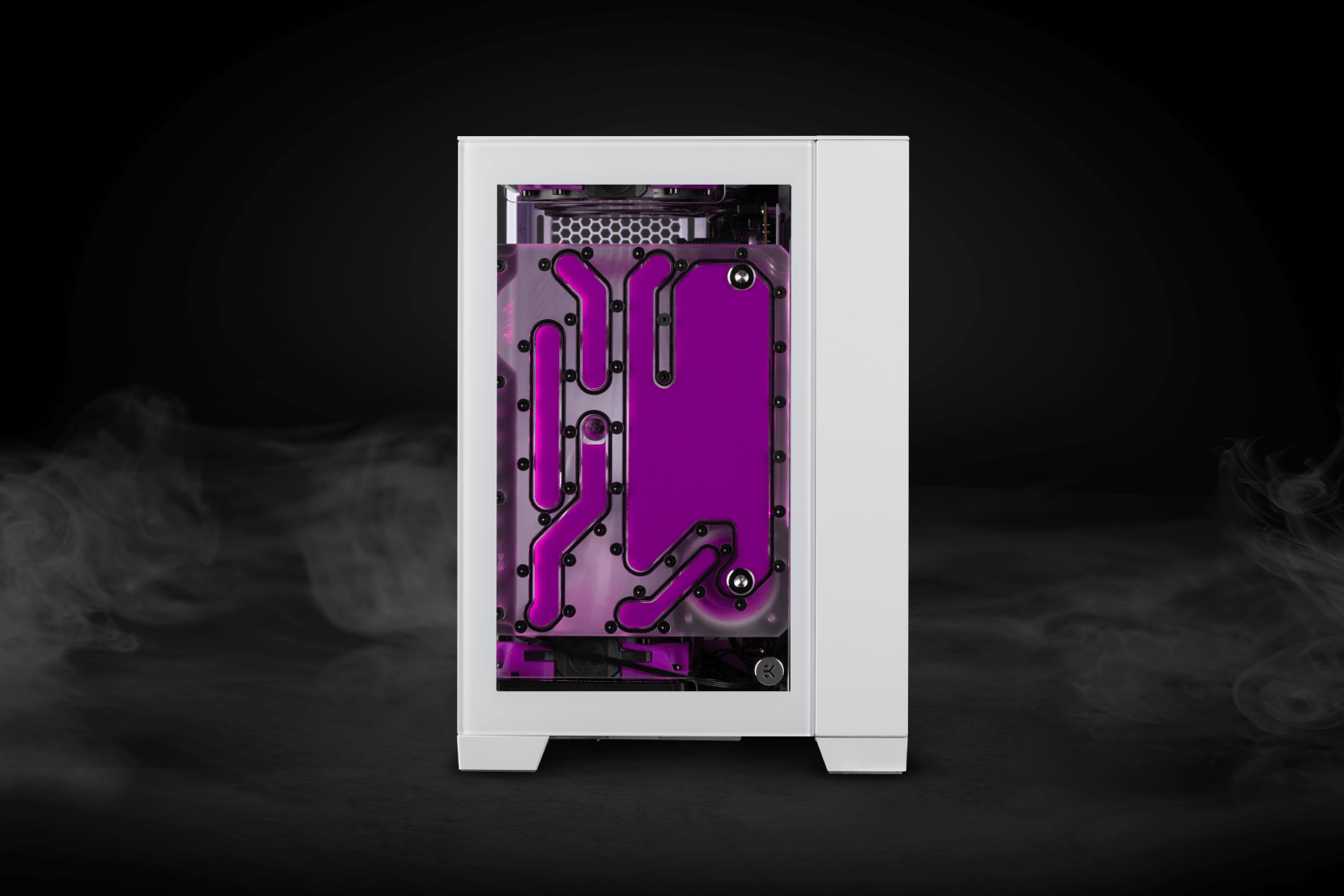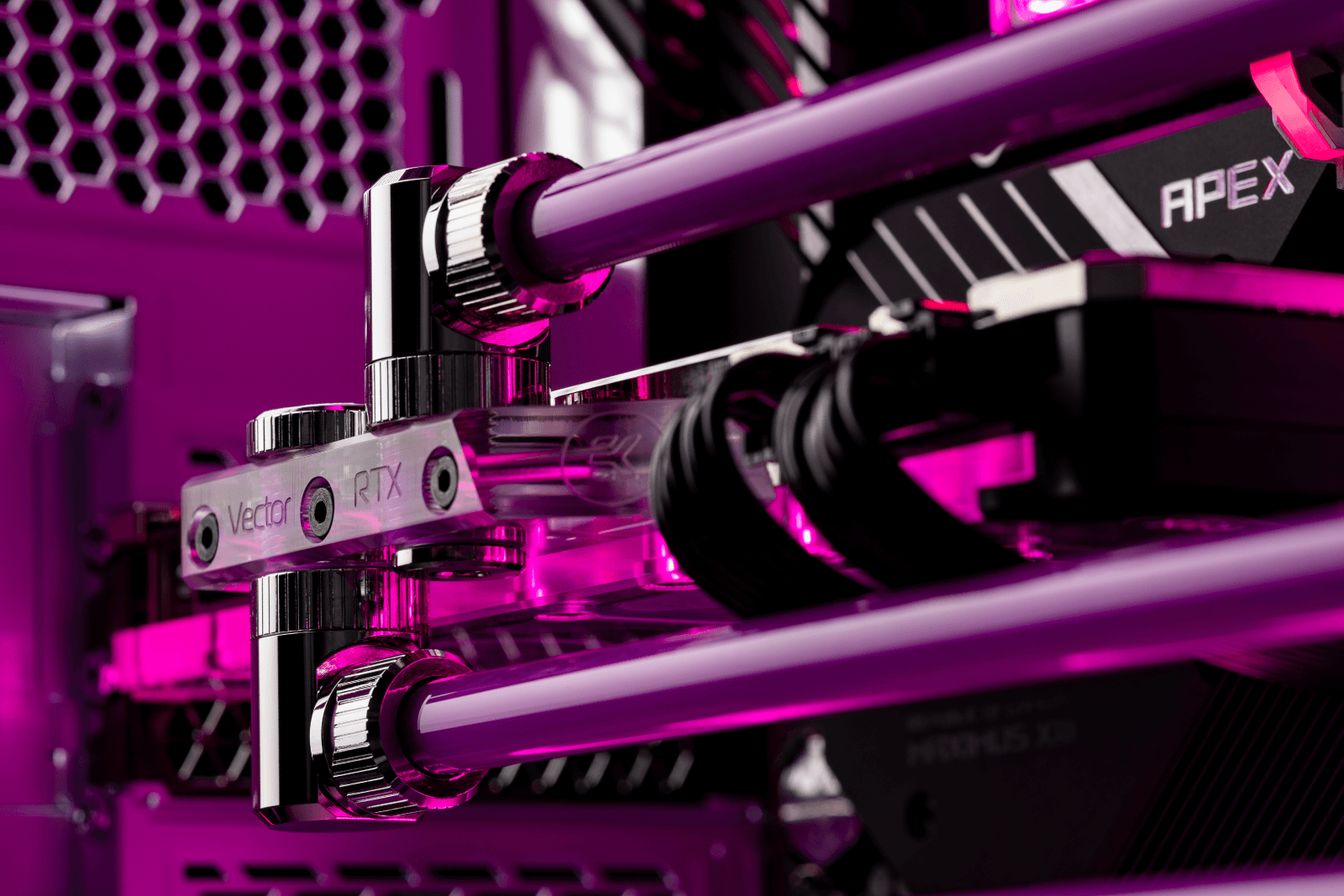 Understand the Build
The front of the case has been filled with a distribution plate specially designed for the O11D Mini case so it makes a perfect fit. Since a full ATX size motherboard was used, the top of the case is without a radiator, but don't worry, we still have bottom and side positions in the case to fill up with our Quantum radiators. For that, we used SE 360 at the bottom and SE 240 at the side which will be enough to use your PC at the peak performance without it breaking a sweat.
Altogether, eight X3M beautiful fans are hiding in the case, but there is no way to miss them as the dampers have been changed to, well you guessed it, Purple :D
Water flow has been set up from top and behind to bottom and side. That orientation will make sure that inside of the case gets fresh air and radiators don't dump heat inside the case.
GPU is dressed in Plexi and nickel on both sides so you can show it off in all its glory while staying cool.
The nickel backplate reflects the Magnitude block nicely and also covers the CPU in style. Ports on the Magnitude block also perfectly match the ports on the distribution plate. So, the tubing is spaced out evenly all the way.
The Magnitude block has been tweaked a bit. Nickel accent was changed to a purple accent so in case your LEDs are turned off you can show it off, but it does not stop there. Nickel fittings are also adorned with purple rings to let them complete the build with Solid Electric Purple coolant. Since this is a small case, small 12mm hard tubes were used in order to achieve perfect ratio and avoid overpowering of tubes.
When the night comes, you might want to turn on the LEDs, it just might spice up your life.
Hardware used in this example build:
PC Case: Lian Li pc-o11-dynamic Mini Snow white
Motherboard: ASUS® ROG MAXIMUS XIII APEX
Graphics Card: AMD Radeon RX 6800 XT (Reference design)
RAM: Patriot Viper Gaming RGB Series White
Processor: Intel® Core™ i9-11900K
Purple Passion Build Accessories