Shop The Loop - Clone Trooper
Did you look twice and wonder how it is possible? Paralel loop with one tube hiden behind the FLT combo unit will look hard to build put is actualy pretty simple. Such an interesting piece can be recreated with this Watercoolin bundle that has everything you need.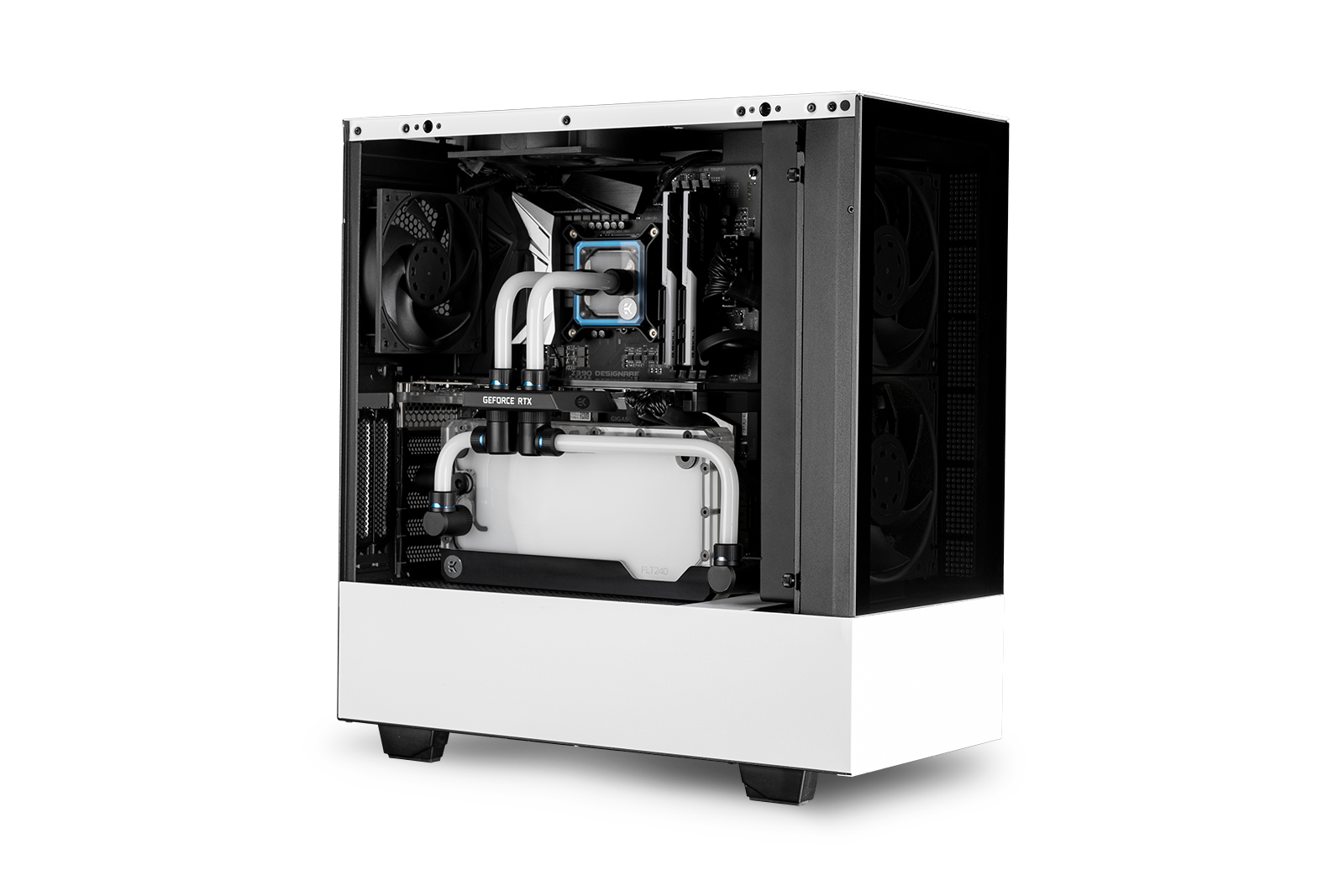 Black and white build whith a touch of blue to represend the iconic Clone Trooper. NZXT 510Elite fits just perfectly into the theme. EK-Qauntum Kinetic FLT 240 D5 combo unit covers the bottom unused parts of the motherboard and makes shure that anyone will want to peek behind. Front EK-CoolStream SE 280 radiator uses the available space as much as possible and 2 x EK-Vardar EVO 140ER Black BB make sure the airflow is on point. 2 additional EK-Vardar EVO 120ER Black BB fans are used as case fans. Motherboard socket makes a perfect line for EK-Magnitude CPU block to align with EK-Quantum Vector RTX RE Ti mounted on the Refernce design 2080 ti GPU. Back of the GPU is finished with black backplate to give some extra cooling and style. 12mm tubing is connected with EK-Torque HTC-12 fitings with a help of EK-Torque Angled 90° adapters. All the tubing used have a single 90° bend which means that with a help of pre-bent tubing there is no worries about bending.
Touch of blue was simply added with a use Blue EK-Torque HTC-12 Color Rings and a changed accent on the Magnitude block with a Blue EK-Quantum Magnitude Accent.
If needed with a use of an extenders a different GPU width block can be used. Also CPU socket position can be corrected with a use of offset fittings.
Hardware used in this example build:
PC Case: NZXT 510Elite
Motherboard: Gigabyte Z390 Designare
Graphics Card: Nvidia GeForce RTX 2080 Ti (Reference design)
RAM: G.Skill Trident Z
Processor: Intel Core i9 9900K
Clone Trooper Build Bundle
Clone Trooper Build Accessories