Shop The Loop - Blue Pill
We created this build named Blue Pill and assembled our products in a bundle so you can purchase all EK products that were used with one click and no hustle. Build that was created by our in-house tech specialist is here for you to replicate it. Power and clean look wraped in the Define R6 case by Fractal Design. Rig of the month on guru3d.com for January 2021 now has some tweeks for ease of assembly, so please do check this masterpiece.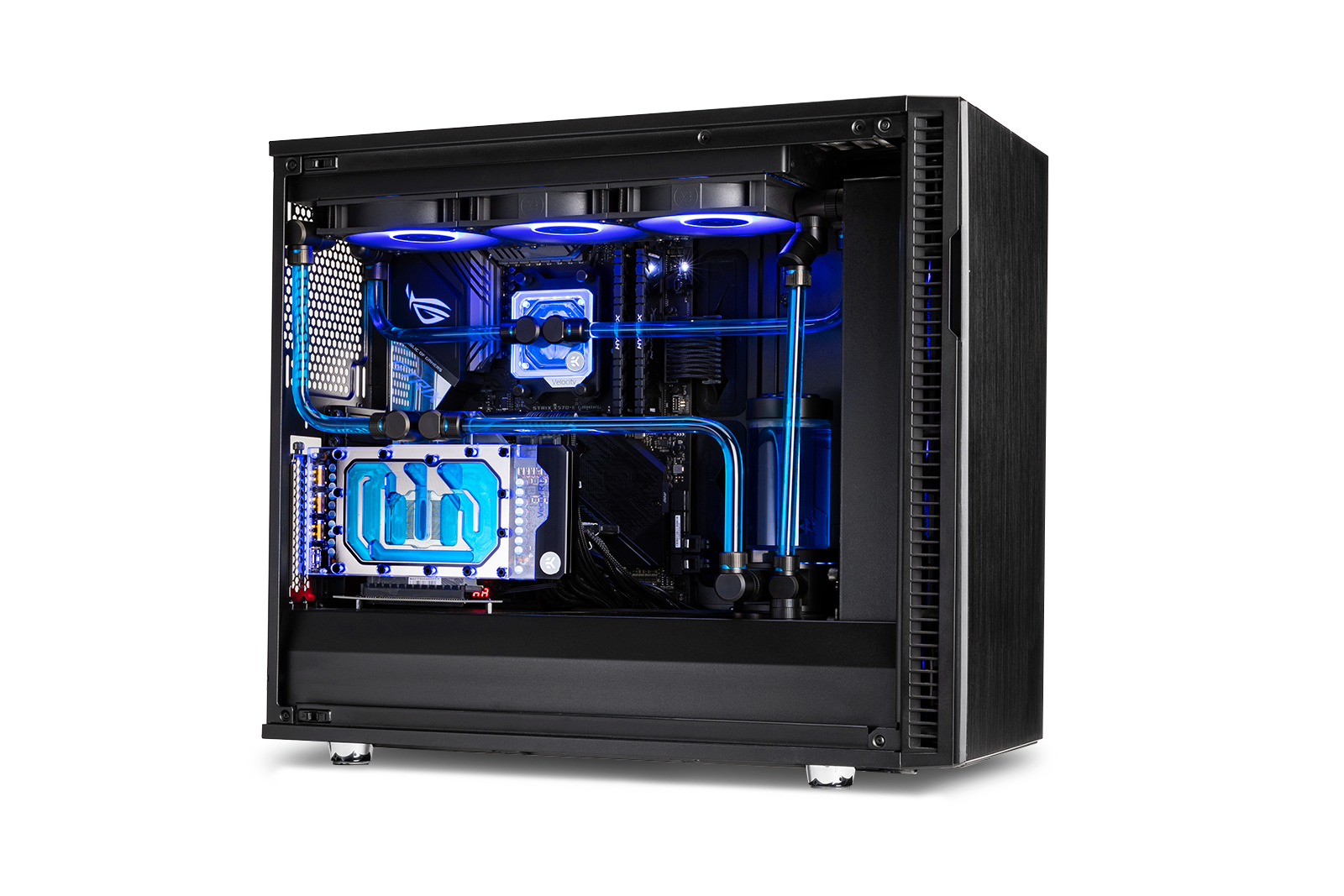 Clean look might seem simple but it was only possible by some carefull use of angled rotary adapters that we can see used on both radiators to line up all the tubing. On the top radiator, EK-AF Classic Angled 90° with a combination of EK-Quantum Torque Rotary 90° was used on both ports whiched worked out perfectly to line up the tubing with the CPU ports and the GPU ports. CPU and GPU ports therefore only needed EK-Quantum Torque Rotary 90° in each port and the tubing could be fixed in with EK-Quantum Torque HDC 12 fittings. Front radiator has 90° rotary adapter instaled on the backside and a combination of 90°rotary + 2x EK-Quantum Torque Rotary 45° on the frontside. Front side is then connected to the EK-Quantum Kinetic TBE 200 D5 PWM D-RGB – Acetal pump combo unit. On the outlet port of the combo 90°rotary adapter was used and on the inlet a EK-Quantum Torque Rotary T-Splitter was used to also incorporate a drain which is hiden from view by the PSU shroud.
Drain consist of:
EK-Quantum Torque Extender Rotary MM 14 +
EK-AF Ball Valve (10mm) G1/4 +
EK-Quantum Torque Rotary 90° +
EK-Quantum Torque STC-10/13 +
EK-DuraClear 9,5/12,7mm soft tubing +
EK-Quantum Torque STC-10/13 +
EK-AF Pass-Through G1/4 +
EK-Quantum Torque Plug w/Badge
With that, no actual tube bending is required as this build was done with EK-Loop Hard Tube 12mm 0.8m Pre-Bent 90° - Acrylic tubing. So there are no excuseses not to go with this hard tubing build.
A powerfull D5 pump combo is held in place on the front radiator with EK-UNI Pump Bracket (120mm FAN) Vertical. Front radiator is EK-CoolStream PE 360 and the top one is EK-CoolStream SE 360.
For silent but effective airflow six black EK-Vardar EVO 120ER D-RGB fans are used to dissipate the heat and keep your PC cool.
Velocity block in the build used can be choosen for the Intel and AMD systems. Nvidia RTX 3080 ti reference GPU is mounted to OEM vertical GPU holder and cooled by EK-Quantum Vector RE RTX 3080/3090 D-RGB - Nickel + Plexi. Due to the GPU position most GPU models and EK GPU blocks will fit with no aditinal parts needed.
To put some color into the build not much was needed. EK-CryoFuel Navy Blue with a combination of Blue EK-Quantum Torque HDC 12 Blue Color Rings is all that is needed. D-RGB lighning magic will take care of the rest.
You can personalize your build with other coolant and ring colors or even go with different finish on the fittings. Owner of this build has done a step ahead and changed the white translusive stickout ring on the pump combo with a black acetal version and also thumbnuts on the CPU block with black version. That will almost eliminate the D-RGB on the pump combo and leave just a tiny hint of blue there where the gap is in between the stickout and the pump bottom.
Hardware used in this example build:
PC Case: Define R6 - Fractal Design
Motherboard: ASUS® ROG Strix X570-E Gaming
Graphics Card: Nvidia GeForce RTX 3080 Ti (Reference design)
RAM: Kingston HyperX Predator
Processor: AMD Ryzen 9 5900X
Riser: Fractal
Cables: Black mod cables
Blue Pill Build Accessories