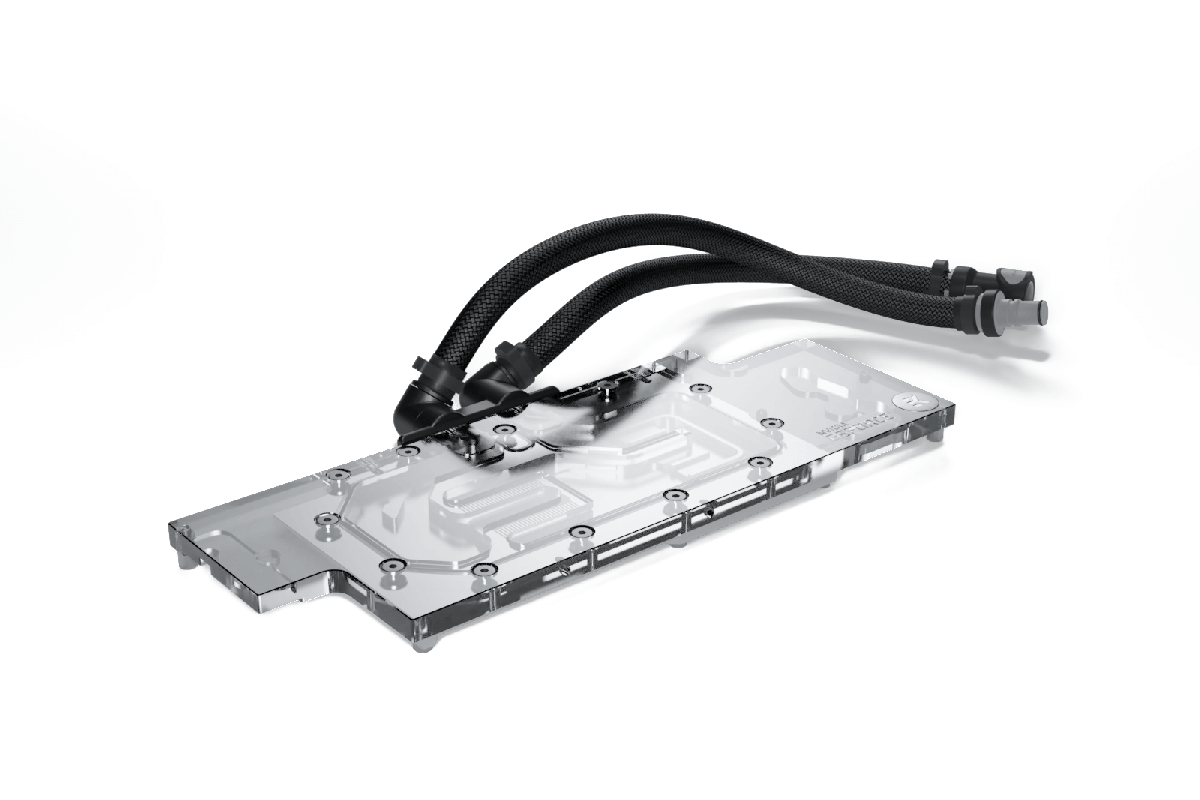 EK-MLC Phoenix GPU Module FC GeForce GTX FE
Product EAN:
3830046995124
End of life
Financing Available
Split the purchase amount of 500 EUR/AUD/USD or more in up to 3 interest-free monthly payments with Splitit.
Details
Phoenix is a Modular Liquid Cooling line of products by EKWB and the next generation of improved All-In-One water cooling solutions. Designed around Quick Disconnect Couplings it brings a modular approach to connecting and expanding the loop, giving you the freedom to decide which components you want to cool down. CPU cooling module and GPU cooling module can be connected to the EK-MLC Radiator Core Module in any order, separately or together.
The EK-MLC GPU Module FC GeForce GTX FE is a pre-filled and pre-assembled Full-Cover GPU water block module. It is precisely CNC machined to fit multiple NVIDIA® GeForce® GTX and Titan X Pascal based graphics cards. It is made from high-purity copper which enables high thermal performances.
Quick Disconnect Coupling or QDC is a special connector that allows for a quick and tool-less expansion of the system without the need for draining of the unit. This allows you to add a pre-filled QDC-enabled GPU or CPU cooling module to an EK-MLC Radiator Core Module. Quick Disconnect is a medical grade product with Zero Drop design, and the expansion of the modular liquid cooling system can be very quick, easy and safe.
This water block directly cools the GPU, RAM, as well as VRM (voltage regulation module) as water, flows directly over these critical areas thus allowing the graphics card and it's VRM to remain stable under high overclocks. It features a central inlet split-flow cooling engine design for best possible cooling. Such a design enables great hydraulic performance to work flawlessly with all EK-MLC radiator core modules. The water block is also equipped with a Rotary Terminal which gives the user unlimited flexibility for loop routing.
The base of the block is made of electrolytic copper while the top is made of quality acrylic material. The top also features two pre-drilled slots for 3mm LED diodes. The sealing is ensured by quality rubber washers. Screw-in brass standoffs are pre-installed and allow for safe, painless installation procedure.
EKWB recommends the purchase of aesthetic retention backplate which improves the looks of your graphics cards and also provides some passive cooling to the circuit board VRM section.
Enclosed:
- EK-MLC GPU Module FC GeForce GTX FE
- Mounting mechanism with screw-in brass standoffs
- Necessary mounting screws, nuts, and washers
- Thermal pads
- Thermal grease EK-TIM Ectotherm (1g)
Technical specifications:
- Top material: CNC machined acrylic glass
- Cold plate material: CNC machined electrolytic copper
- Tube length: 165mm
- Fitting type: 10mm Barb fitting
- QDC type: 10mm Barb fitting
- Coolant type: EK-CryoFuel Clear
Made in Slovenia - Europe!
PLEASE NOTE:
NVIDIA® GeForce GTX factory backplate is not compatible with this water block!
New NVIDIA® SLI HB bridges are compatible with this water block.
Check your toolbox if you are missing this special Hex adapter for some of the screws.
Additional Info
| | |
| --- | --- |
| Material / Design / Color option | Copper Plexi |
| Prepared for LED Diode | 3mm |
| Chip Manufacturer | Nvidia GeForce |
Decided to buy this product?