Podrobnosti
To je popolna rešitev za vodno hlajenje (CPU in matična plošča) za matične plošče, osnovane na XXX GIGABYTE® Intel® X299 Chipset matičnih ploščah katere podpirajo nov Intel® Core™ X-serijo LGA-2066 podnožij procesorjev. Ta monoblok je kompatibilien z naslednjimi GIGABYTE® matičnimi ploščami:
GIGABYTE X299 Aorus Gaming 3 (rev.1.0)
GIGABYTE X299 Aorus Gaming 7 (rev.1.0)
GIGABYTE X299 Aorus Gaming 9 (rev.1.0)
GIGABYTE X299 Aorus Ultra Gaming (rev.1.0)
GIGABYTE X299 Aorus Gaming 3 Pro (rev.1.0)
GIGABYTE X299 Aorus Ultra Gaming Pro (rev.1.0)
GIGABYTE X299 UD4 (rev.1.0)
GIGABYTE X299 UD4 Pro (rev.1.0)
GIGABYTE X299 UD4 EX (rev.1.0)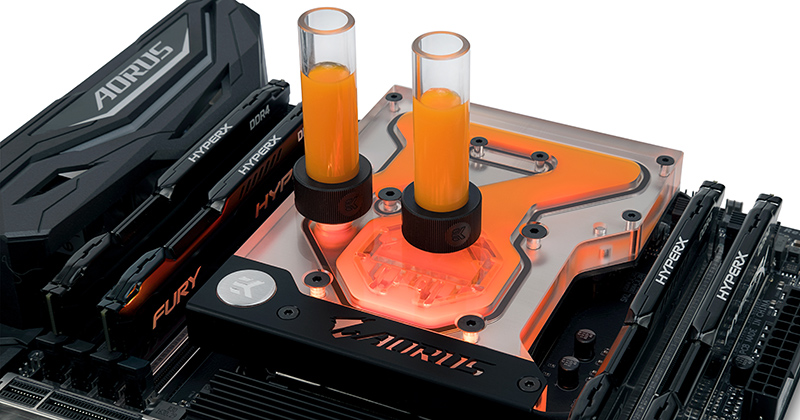 Zasnovan in izdelan v sodelovanju z GIGABYTE®, ta monoblock uporablja nagrajeni EK-Supremacy EVO hladilni sistem, ki zagotavlja najboljše možno hlajenje CPU-ja. Ta vodni blok neposredno hladi Intel® LGA-2066 podnožje (socket) CPU-ja, kot tudi modul regulacije moči (MOSFET). Tekočina teče neposredno na vsa kritična področja, ki navdušencem zagotavlja odlično rešitev za visoko in stabilno navijanje CPU-ja. EK-FB GA X299 GAMING RGB, tako kot pri vseh EK monoblokih, ima dizajn velikega pretoka in ga je mogoče preprosto uporabljati tudi s šibkimi pumpami ali nastavitvami pump za tiho delovanje. Tovrstno učinkovito hlajenje VRM na platformi X299 dodatno zmanjša temperaturo CPU-ja v primerjavi s tradicionalnim vodnim blokom in hladilnim sistemom VRM.
Ta monoblok platforme X299 ima tudi novo preoblikovano hladno ploščo. Nova zasnova zagotavlja, da ima monoblock boljši mehanski stik z IHS procesorjev Intel® Core ™ X-serijo LGA-2066, ki omogočajo boljši prenos toplote.
Podnožje monoblokov je izdelano iz nikeljanega elektrolitskega bakra, medtem ko je vrh izdelan iz kvalitetnega akrilnega stekla. Zaščiteni odporni medeninasti vijačni vložki so vnaprej nameščeni in omogočajo enostavno namestitev.
Monoblok je opremljen z digitalnim RGB LED trakom, ki se povezuje preko 5-pin posebnega LED kabla, ki je priložen matični plošči. Matične plošče serije GIGABYTE AORUS X299 imajo danes najnaprednejši LED sistem na trgu. Z aplikacijo GIGABYTE RGB Fusion lahko uporabniki individualno izbirajo barve na vsaki LED diodi integriranega digitalnega LED traku. Pokrov LED traku lahko enostavno odstranite, da prilagodite usmeritev kabla ali zamenjate Digital LED trak z navadnim LED-trakom ali katero koli drugo prilagojeno osvetlitev!
Za razliko od druge rešitve na trgu je to resnično edinstven, robusten in zanesljiv hladilni izdelek, za katerega je potreben samo dva spojna priključka za pravilno delovanje.
Priloženi toplotni lističi se uporabljajo na modulih regulatorja napetosti, da se izboljša zmogljivost hlajenja vodnega bloka. Za CPU uporabite priloženo (električno neprevodno) termično pasto EK-TIM Ectotherm.
Priloženo:
- EK-FB GA X299 GAMING RGB Monoblok
- montažni mehanizem
- termična pasta EK-TIM Ectotherm
- toplotni lističi
Mnarejeno v Sloveniji - EU!
PLEASE NOTE:
Fittingi niso vključeni! Dva fittinga sta potrebna za normalno delovanje bloka. Glede na raznovrsten izbor fittingov na tržišču in brez predpisanih standardov, zagotavljamo združljivost samo za fittinge kupljene preko naše spletne trgovine
Vgrajeni 3-pin LED LED trak je kompatibilien samo z 3-pin 5V digital LED portom na matični plošči
Fitting-i so samo za predstavitev in niso vključeni!
Ta produkt ne sme biti nameščen skupaj z nobenimi Fluid Gaming aluminjastimi deli!
Dodatne informacije
| | |
| --- | --- |
| Opcija | Nickel Plexi |
| Threads | G1/4 |
| Podnožje | Intel |
Odločeni za nakup izdelka?
No stock
Expected date of availability will be added ASAP