Ultimate Flexibility with EK-QuantumX Loophole Universal Distribution Plate
EK®, the premium water-cooling gear manufacturer, is launching a new universal distribution plate – EK-QuantumX Loophole Distroplate D5 PWM. The distro features an entire wall filled with ports, allowing users to pick the ones that fit their unique build perfectly. As the waterway has no prebuilt inner channels but rather an "open space" internal structure, the user can custom-route tubes from one port to another within the distro itself using micro 90-degree angled adapters and micro HDP or HDC fittings. This unprecedented flexibility and customizability is also reflected in the universal mounting on 140mm fan mounting holes, enabling compatibility with almost any modern PC case. This product does not feature any LED illumination.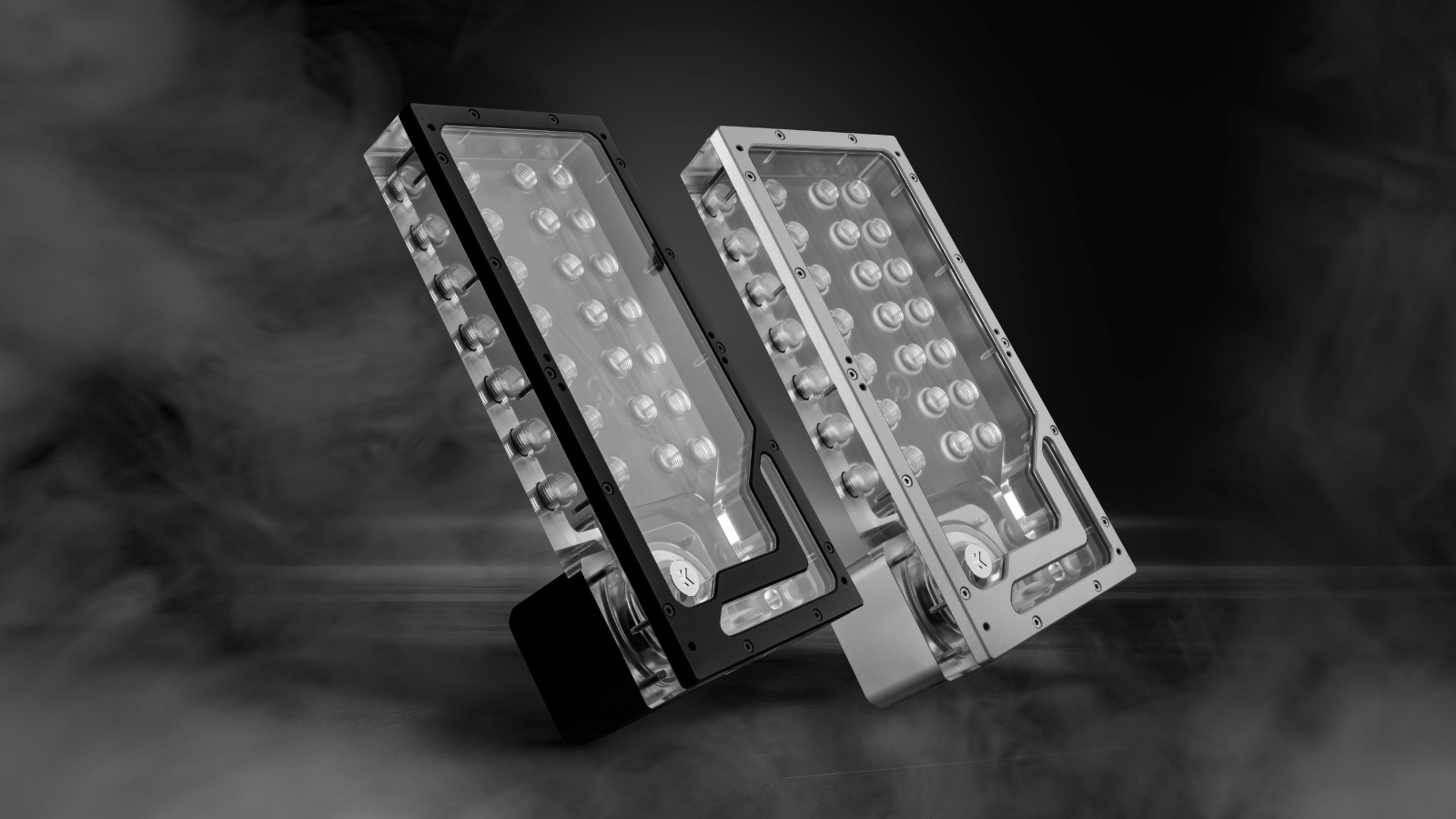 EK-QuantumX Loophole Distroplate D5 PWM
The EK-QuantumX Loophole Distroplate D5 PWM is a custom water-cooling reservoir, routing, and pump solution that can be mounted on 140mm fan patterns inside the chassis (provided there's enough room for it in the case).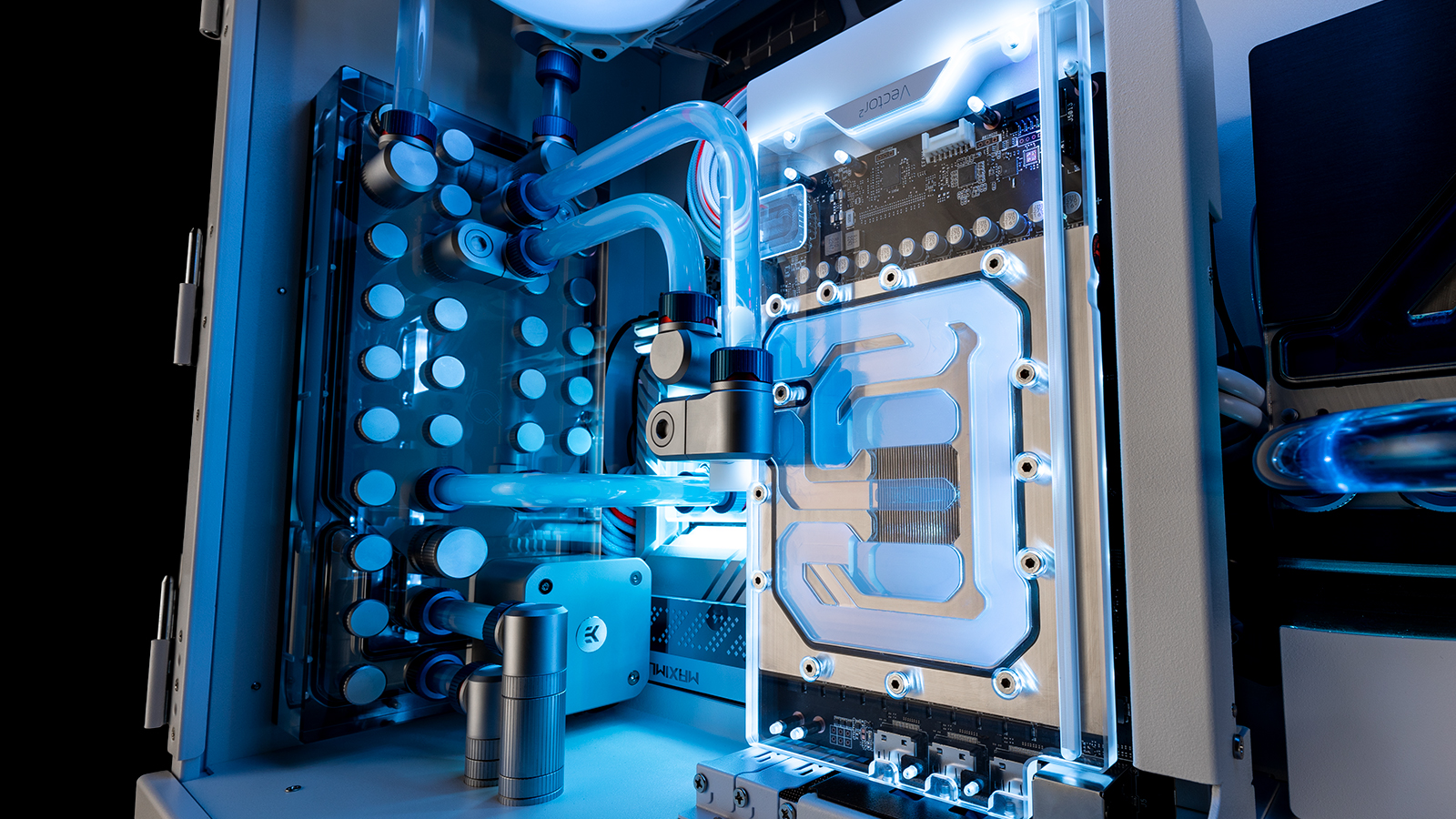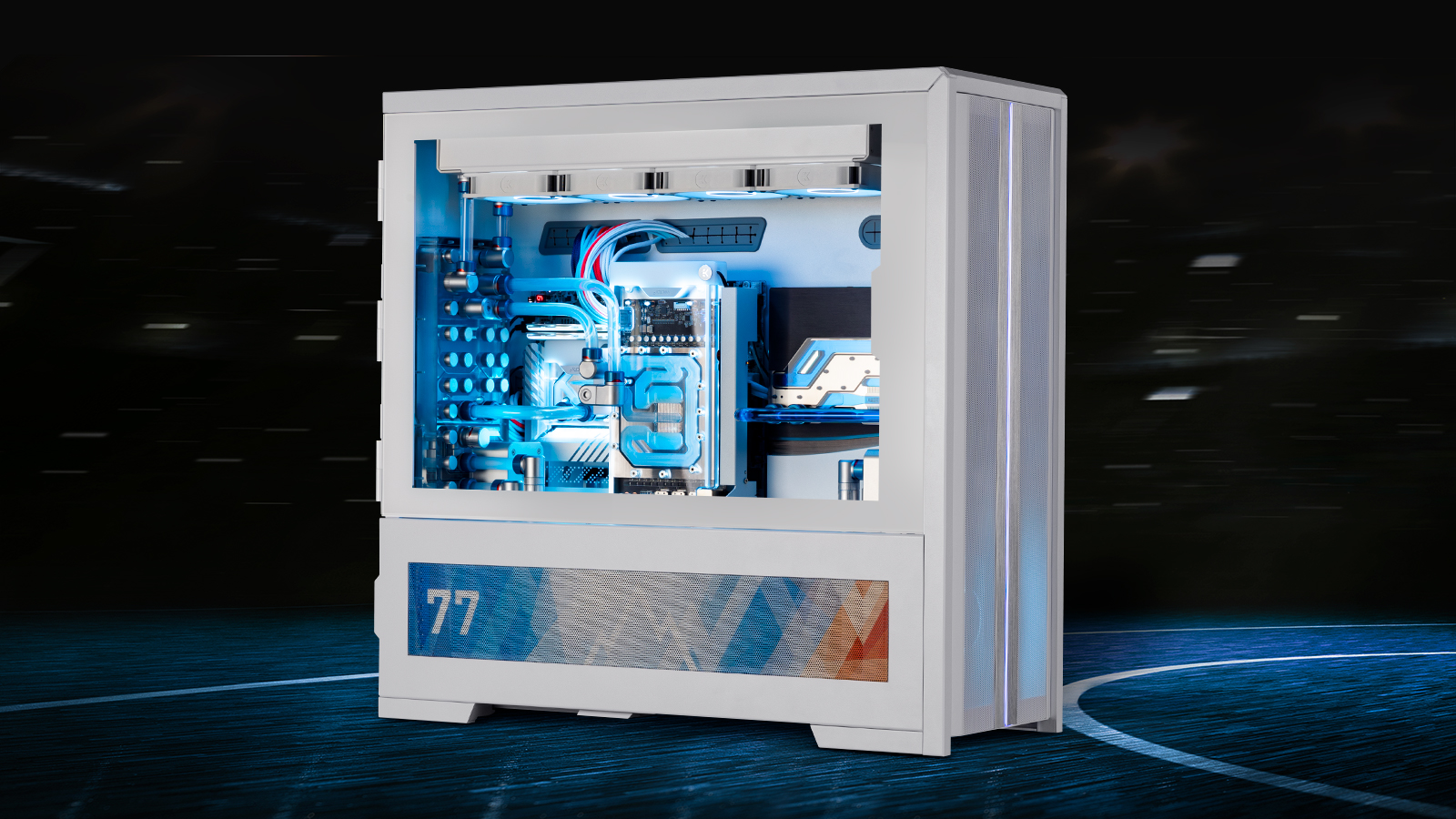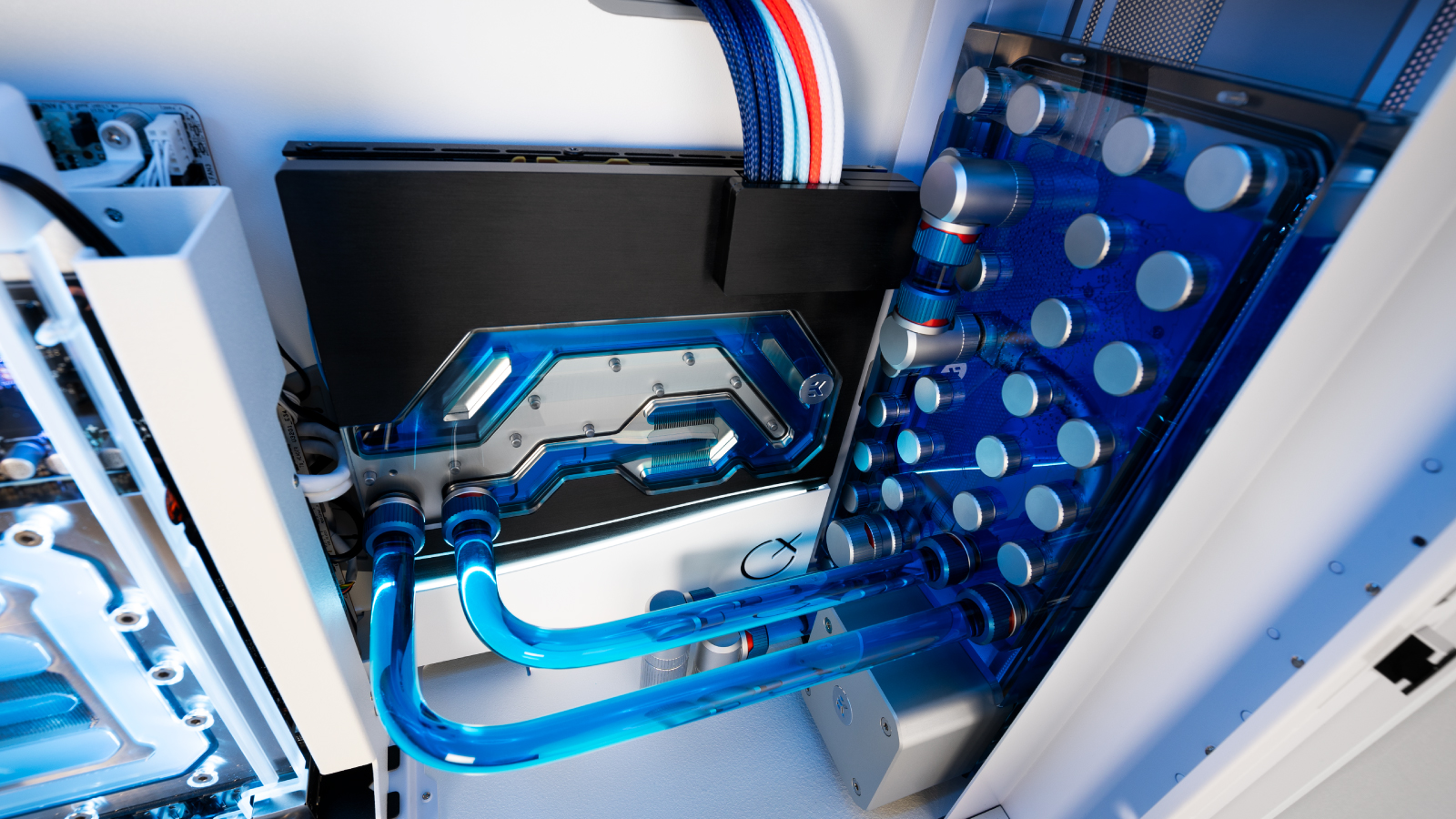 It is unique in the sense that there are no pre-made channels for coolant routing. Instead, the channels are built by the user.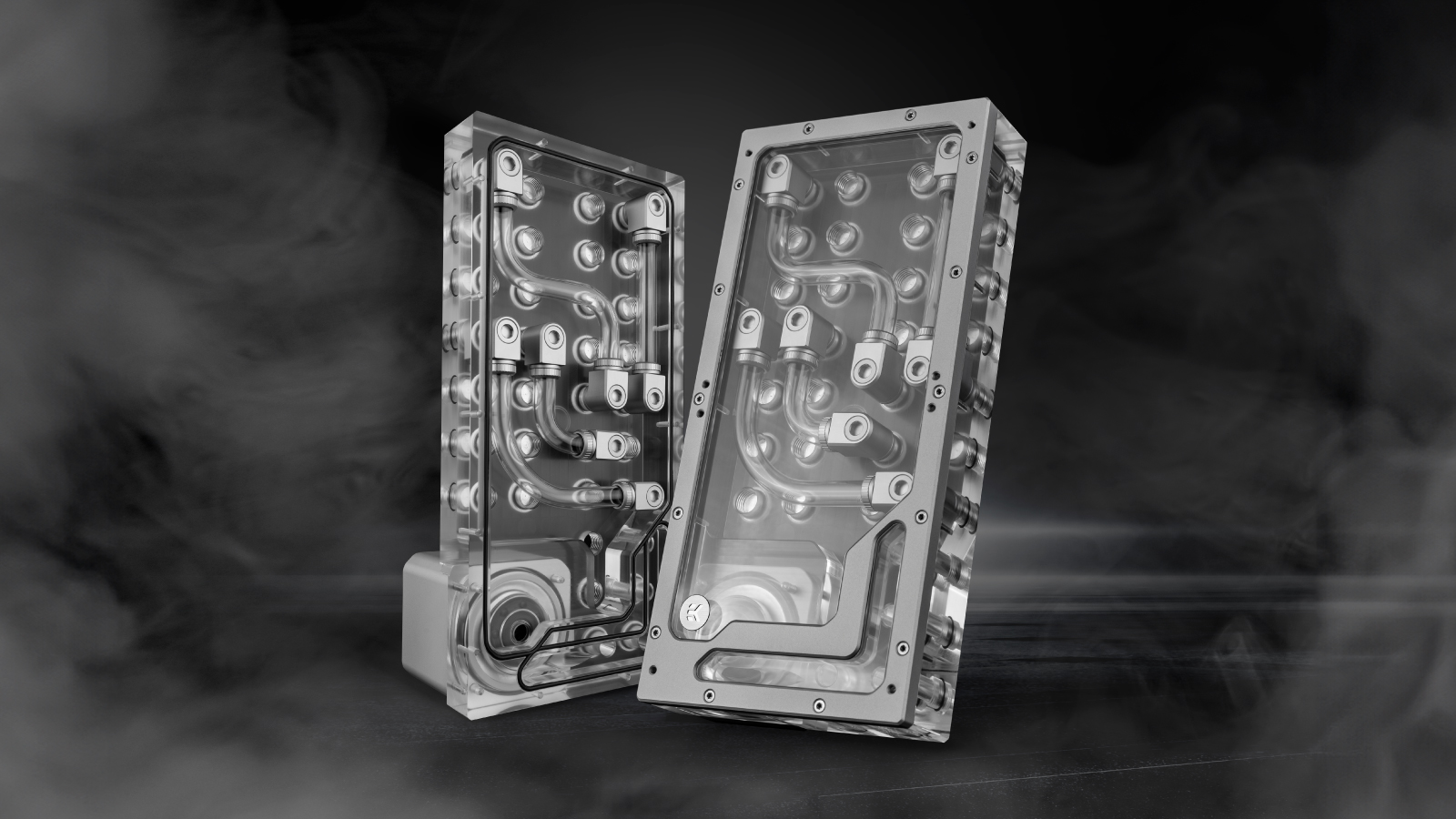 The distro can be mounted on practically any 280mm (2x140mm) mounting point, and with angled brackets (sold separately), users can mount it 90° to a 120mm or 140mm fan mount. It is part of the QuantumX Line aimed at enthusiasts who wish to stand out. The product comes in two finishes: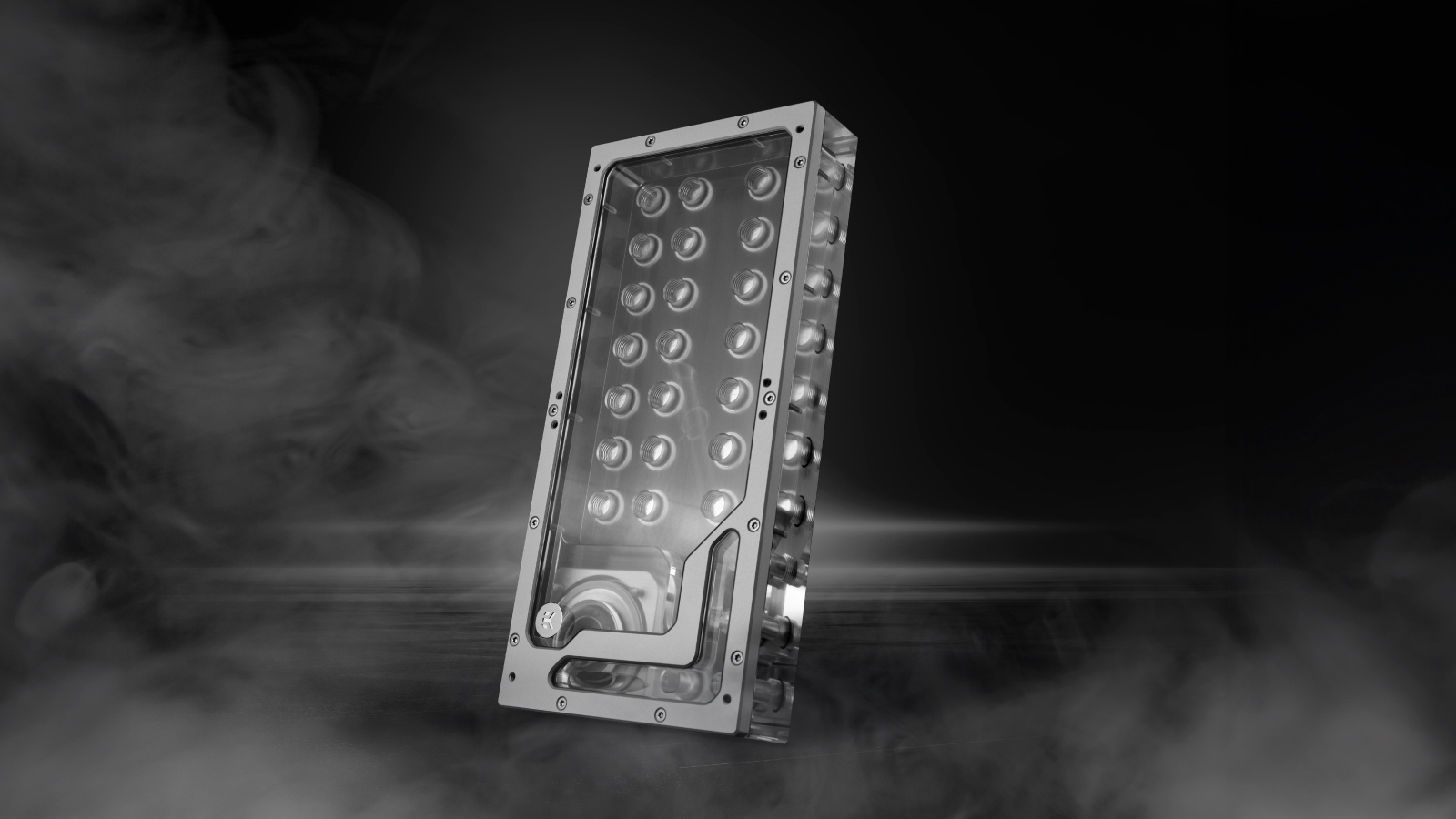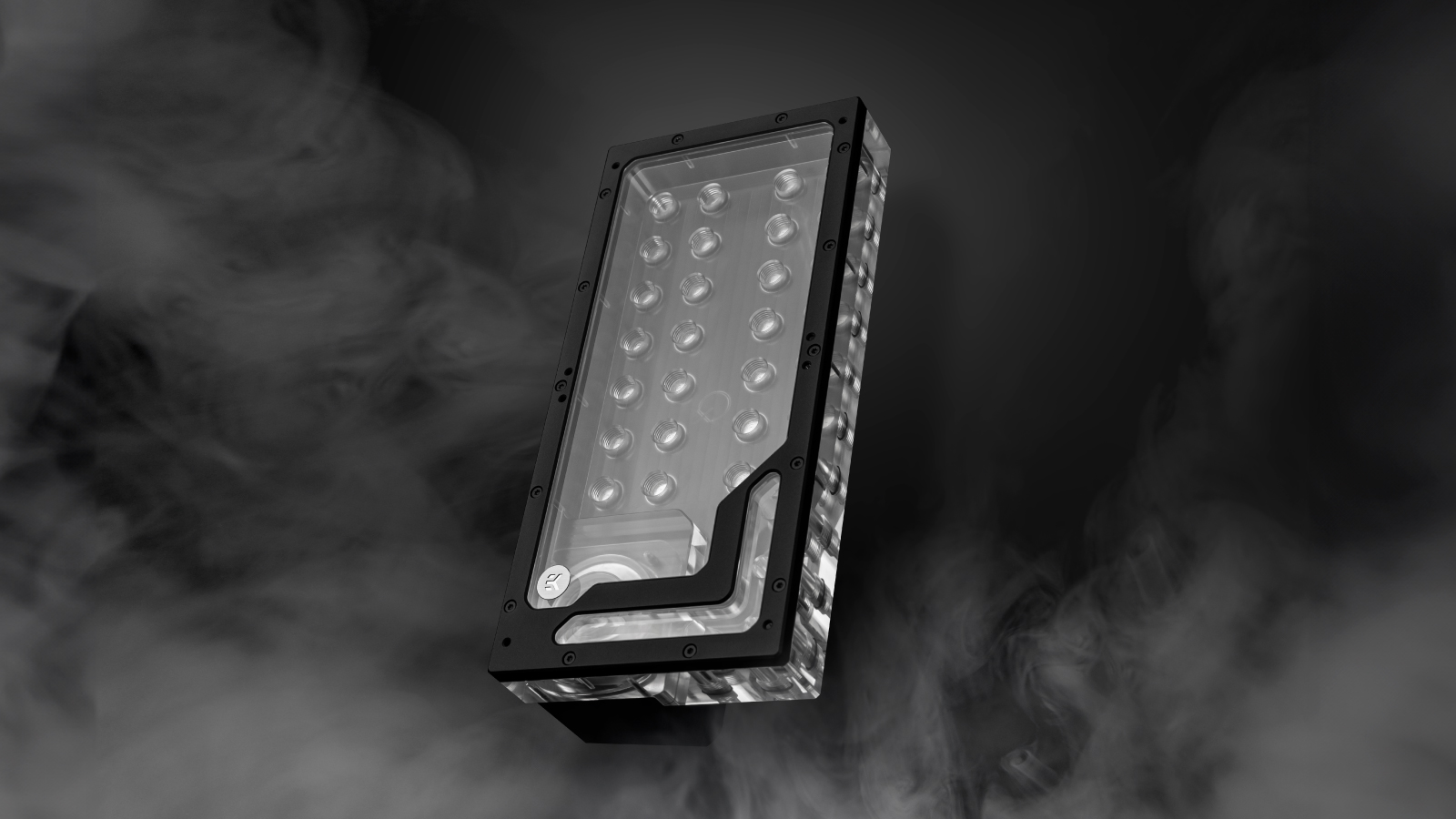 Both versions feature screws, an anodized aluminum frame, and the EK-Quantum Convection premium pump cover in corresponding colors. Designed to offer unique aesthetics, this advanced all-in-one waterway solution includes a pump, reservoir, and a total of 34 industry-standard G1/4″ threaded ports. Connection on the inside of the distro is made via micro adapters, fittings, and tubes.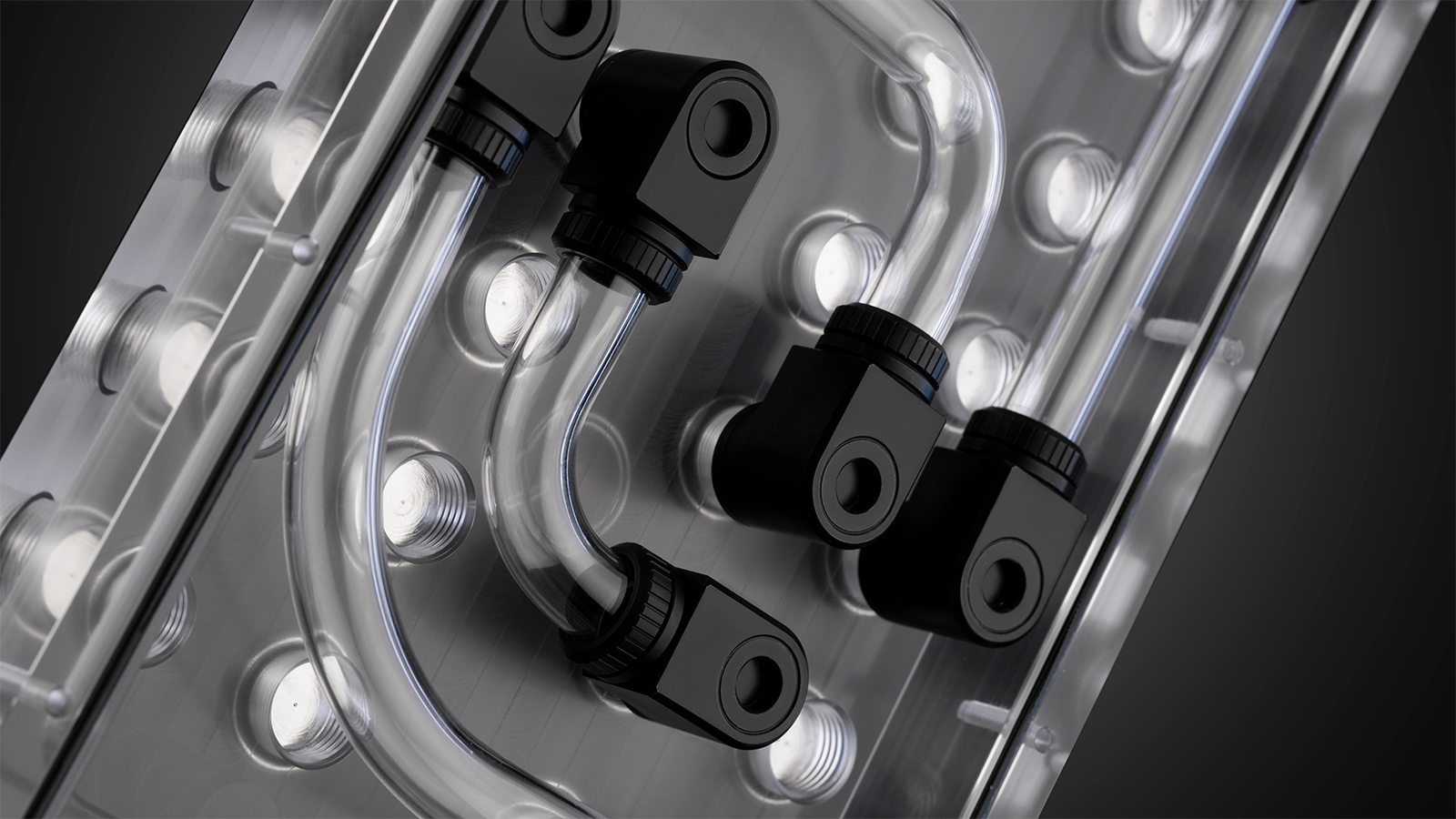 EK recommends the use of the following:
There is 22mm of space between the thread hole surface and the inner lid surface. Using these Torque Series products guarantees compatibility and mitigates any potential issues with the height of the fittings. These products are not included with the distribution plate and are purchased separately in any preferred finish. All thirty-two G1/4″ plugs come with this distro, together with their respective covers in either white or black, depending on the version of the Loophole Distroplate.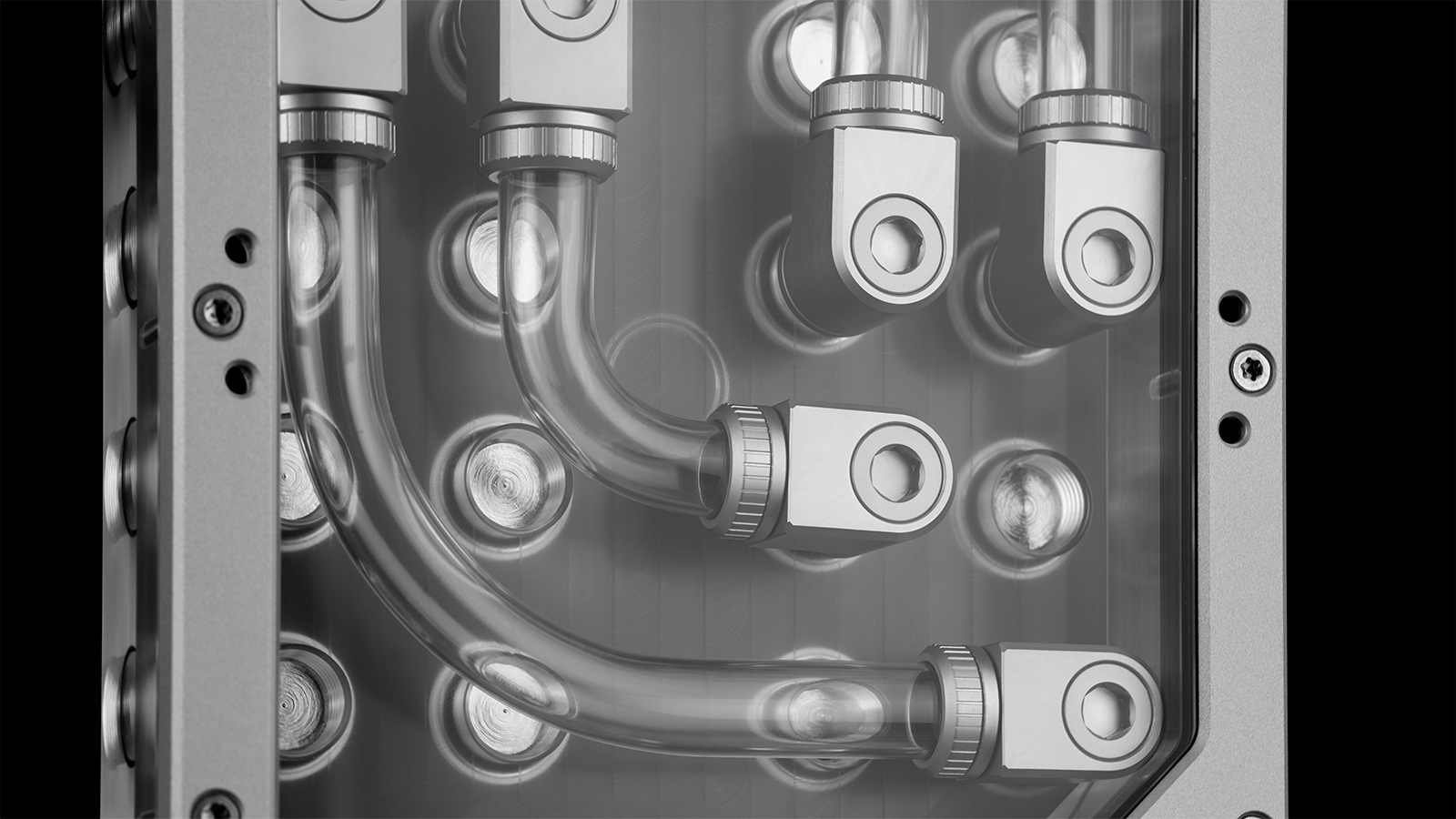 Genuine D5 pump and EK-Quantum Convection Aluminum Cover
This water distribution plate comes with a powerful yet silent PWM-controlled D5 pump. The goal was to make a product with enough power to offer excellent reliability and outstanding performance with multiple blocks and radiators while keeping the noise down to a minimum. The D5 pump has been updated with the latest G3 (Generation 3) variant and comes with a SATA power connector, following the latest PC industry trend to decrease the use of 4-pin Molex cables.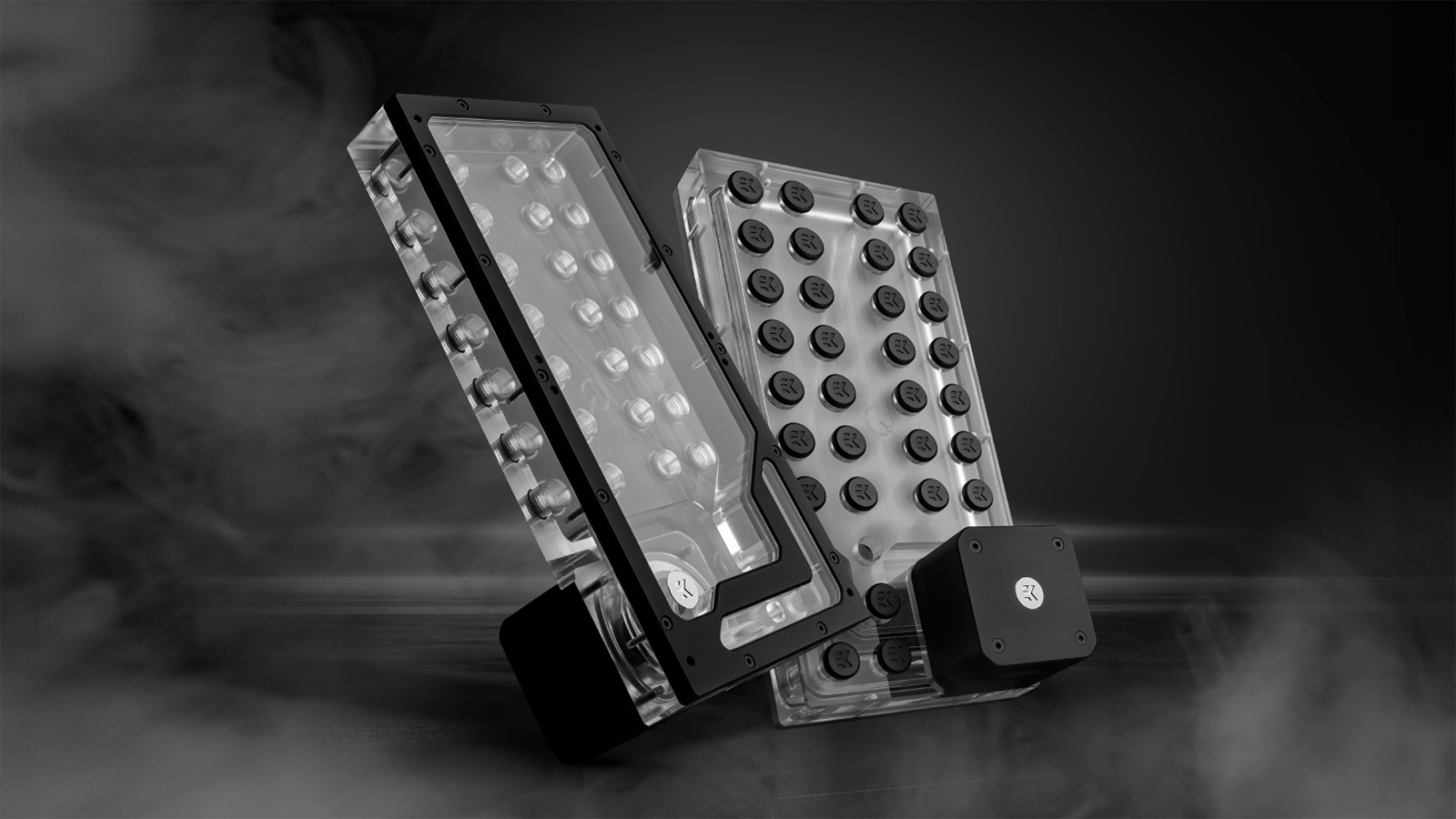 EK-Quantum Convection cover is made of CNC-machined aluminum anodized in black or silver. It is designed to improve the aesthetics of D5 pumps and features a rectangular design with a convenient hole for routing the cable and hiding it as much as possible, allowing for a cleaner look.
The EK-Matrix7 Compliance
EK-Matrix7 standardizes the products' dimensions, including the port position and spacing, making liquid cooling loop assembly easier and more intuitive than ever. EK-Quantum distribution plates follow the EK-Matrix7 standard, enabling them to seamlessly integrate with the Vector² GPU water blocks, active backplates, and Quantum Surface radiators. This means the user will spend less time planning the loop and bending the tubes, resulting in an epic water-cooled build.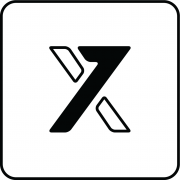 Technical Details
Reservoir:
Dimensions with the attached pump (W x D x H): 140 x 87 x 294mm
Reservoir volume: ~562ml
G1/4″ ports: 34
Plugs: 32 pieces with covers
Frame: anodized aluminum
Pump cover: anodized aluminum
Pump Motor Technical Specifications:
Motor: electronically commuted spherical motor
Rated voltage: 12V DC
Power consumption: 23W
Maximum pressure head: 3.9m
Maximum flow: 1500L/h
Maximum system temperature: 60°C
Materials: Stainless Steel, PPS-GF40, EPDM O-rings, Aluminum Oxide, Hard Coal
Power connector: SATA and 4-pin PWM FAN connector
Operational Regime:
PWM duty cycle: ~ 20-100%
Default behavior: runs at 100% duty cycle when no PWM feedback signal is present
Availability and Pricing
The EK-QuantumX Loophole Distroplate D5 PWM distribution plate is available for pre-order through the EK Webshop and partner reseller network. It is expected to ship out in early December 2023. The table below shows the manufacturer's suggested retail price (MSRP), VAT included.