Special EK and Seagate Collab Brings Lightsaber Collection FireCuda SSD With EK Heatsink
EK®, the premium water cooling gear manufacturer, and Seagate®, the renowned data storage and management solutions provider, have once again joined Forces to create a very special Lightsaber Collection FireCuda™ Solid State Drive with a heatsink, inspired by the iconic Jedi of the Star Wars™ Universe.
Featuring EK's interchangeable patent-pending1 faceplate designs honoring Luke Skywalker™, Obi-Wan Kenobi™, and Darth Vader™, these NVMe SSDs are made for gamers and PC enthusiasts who also happen to be fans of the Force.
With a minimalist yet striking Lightsaber design, anodized-aluminum body, and finely textured micropore surface to improve heat transfer and lower SSD temperatures, these Special Edition FireCudas can run at peak speeds for extended periods. The lightning-fast PCIe Gen4 SSD comes with up to 2TB of capacity and delivers sequential read speeds of up to 7300 MB/s.
Choose Light or Dark Side
This special edition FireCuda NVMe SSD represents famous Lucasfilm characters with three iconic lightsaber designs built on swappable heatsink faceplates so you can choose your favorite Jedi or one that fits your next PC build's theme the best. This FireCuda also includes customizable D-RGB lighting for the Lightsaber effect, so you can truly feel the Force.
The unique patent-pending² loading mechanism that attaches the interchangeable faceplates to the SSD and the heatsink itself was engineered and developed by EK, just like the integrated passive heatsink that minimizes thermal throttling and maintains peak performance for longer periods.
FireCuda Heatsink Developed by EK
The FireCuda SSD delivers incredible transfer speeds of up to 7300 MB/s with swift response times, allowing applications to run fast without bottlenecks in the storage department. It is ideal for high-bandwidth video rendering, previewing and as a Photoshop scratch disk for large files. It is also perfect for gaming, providing fast load times and great access times.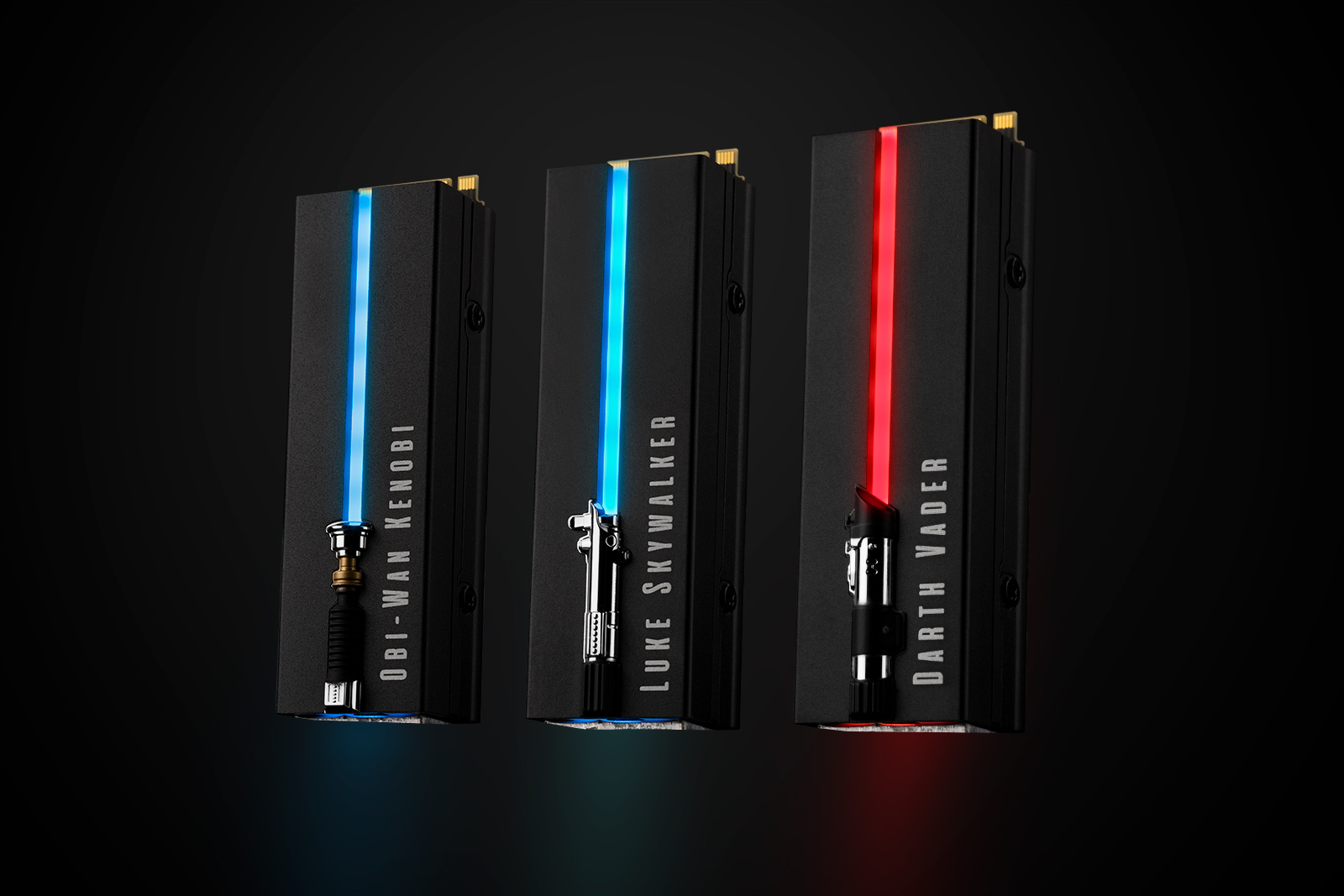 But all this speed also generates extra heat. And this is where EK's low-profile heatsink comes in. Built from high-grade aluminum with a finely textured anodized finish to maximize its cooling efficiency, the built-in heatsink helps reduce thermal throttling while allowing peak performance for extended periods.
For information on availability and pricing, please visit:  https://www.seagate.com/products/gaming-drives/special-editions/lightsaber-collection-nvme-ssd/
1. EUIPO design application 009159304-0001
2. DPMA Patent Application No. 10 2022 113 788.0
"Seagate" and "FireCuda" are registered trademarks of Seagate Technology LLC. All rights reserved.
"Lightsaber," "Obi-Wan Kenobi," and "Darth Vader" are registered trademarks of Lucasfilm Ltd. LLC, Lucasfilm Ltd., and/or Lucasfilm Entertainment Company Ltd.