Endless Possibilities With EK-Quantum Reflection² Distro Plate for Lian Li V3000 Plus
Deli na spletnih omrežjih:
EK®, the premium water-cooling gear manufacturer, is proud to announce the launch of their latest product, the EK-Quantum Reflection² V3000 Plus D5 PWM D-RGB – Plexi distribution plate explicitly designed for the LIAN LI V3000 PLUS chassis. This distribution plate offers cutting-edge water-cooling technology by incorporating the latest 3rd-generation SATA-powered D5 pump, effectively reducing the need for extra 4-pin Molex cables. The Reflection² series distribution plates adhere to the EK-Matrix7 standard, ensuring compatibility and effortless integration.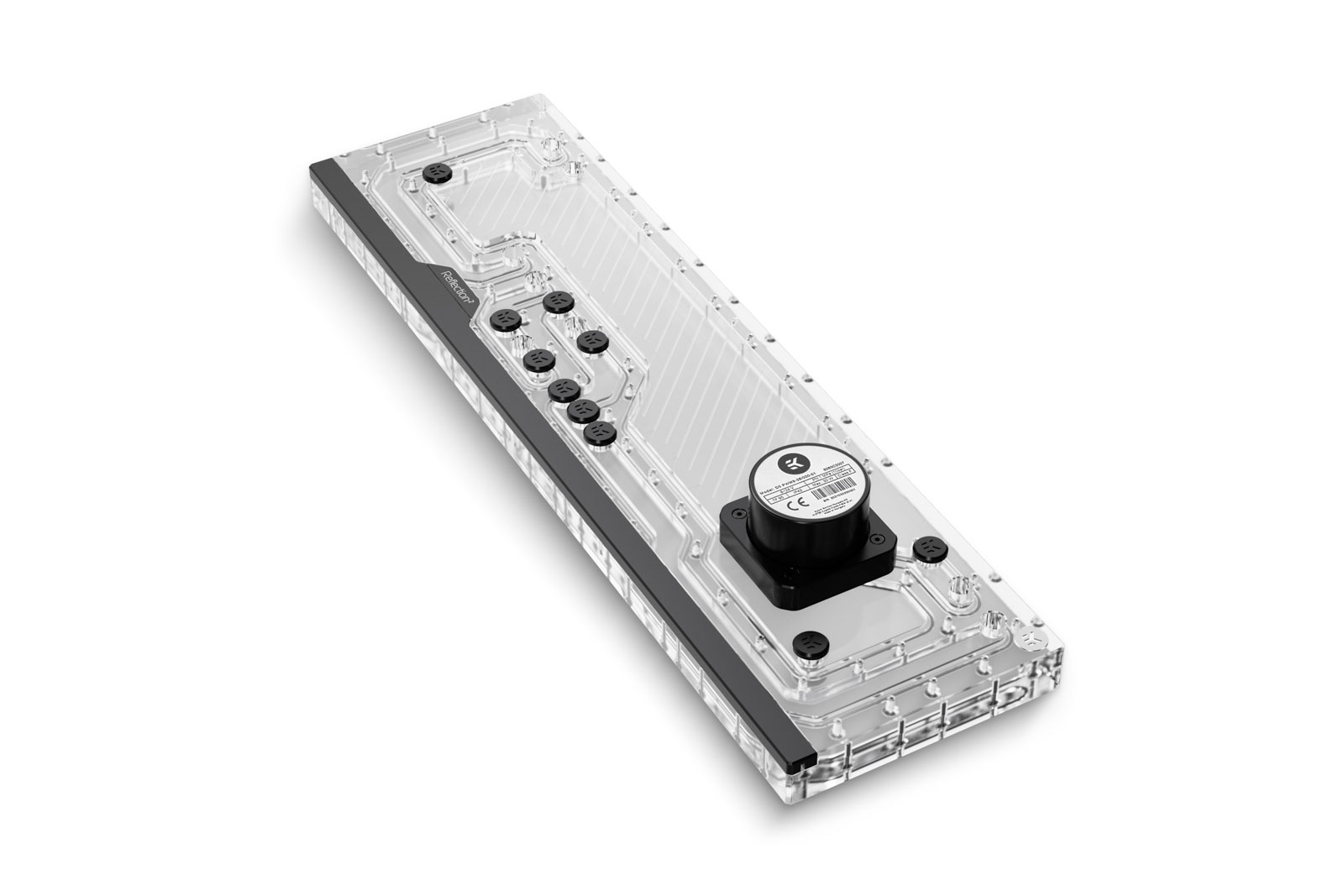 Unmatched Precision and Visual Appeal
The EK-Quantum Reflection² V3000 Plus D5 PWM D-RGB – Plexi is a custom water-cooling reservoir, routing, and pump solution. Its sleek design and see-through plexiglass construction allow you to showcase the mesmerizing coolant flow, creating a stunning visual centerpiece.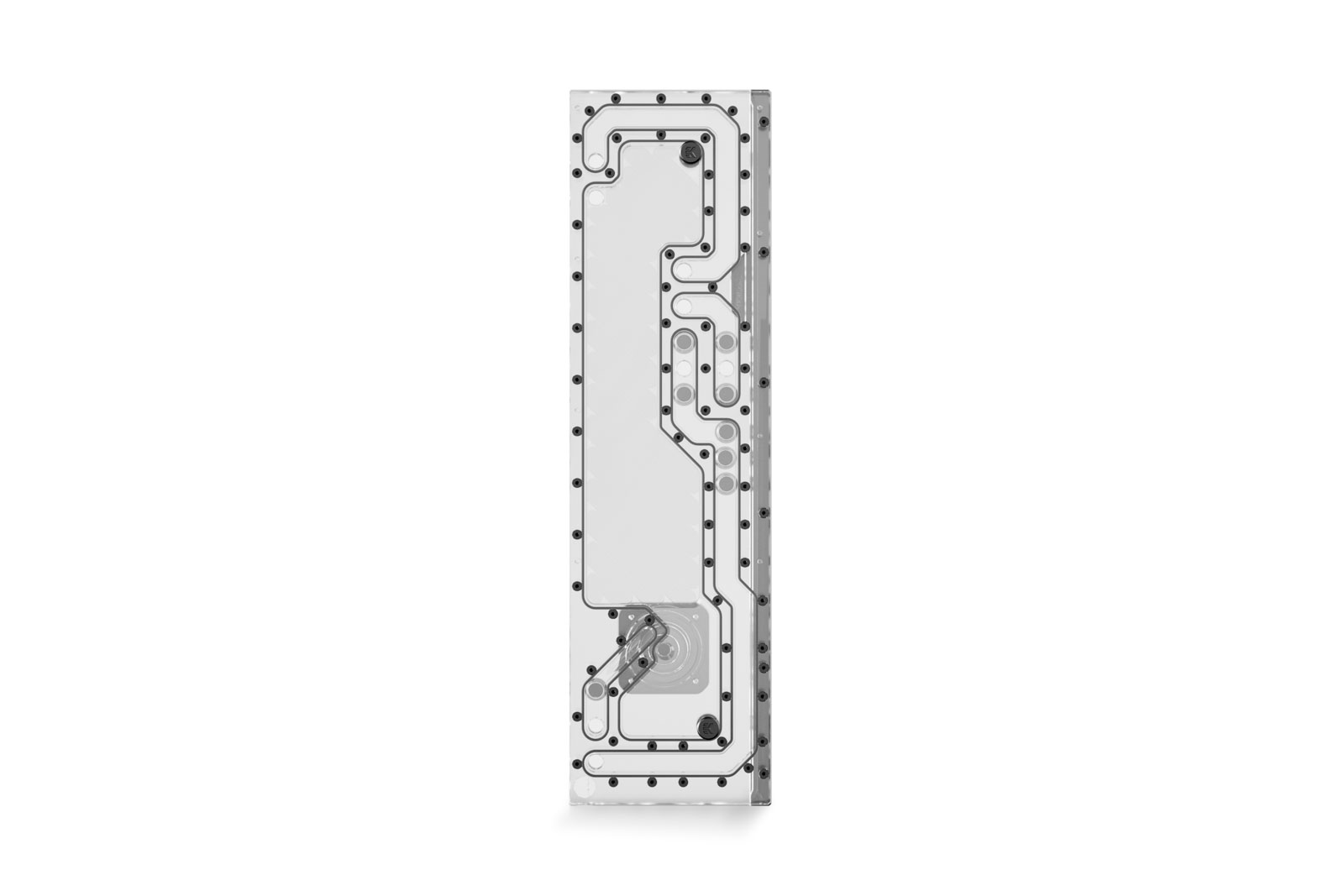 Crafted with meticulous precision using state-of-the-art CNC machining techniques, the plexiglass on the distribution plate is fashioned from high-quality glass-like acrylic material. This intricate manufacturing process ensures impeccable accuracy and a flawless finish, resulting in a distribution plate that provides advanced water-cooling capabilities and showcases unparalleled craftsmanship and attention to detail that provide unrivaled aesthetics.
Seamless Integration and Radiator Compatibility
This advanced all-in-one waterway solution offers exceptional design and unmatched ease of use. It includes a pump, reservoir, simple mounting mechanism, and multiple industry standard G1/4″ threaded inlets and outlets. Thanks to the EK-Matrix7 concept, the placement of these inlets and outlets is precisely aligned with other EK products, minimizing the complexities of tube routing and ensuring a clean and organized loop with perfectly straight tubes.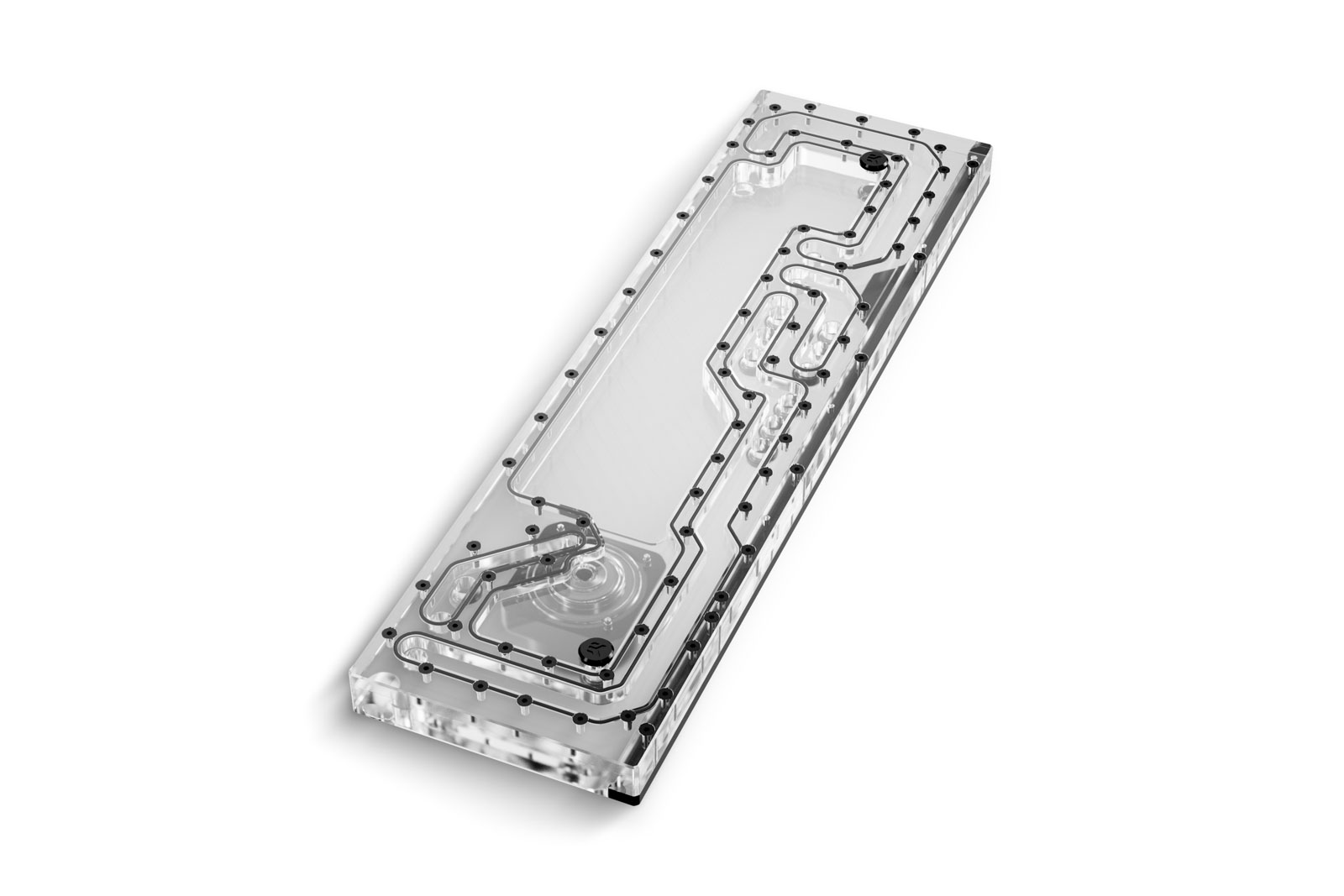 Engineered to be mounted on the case side adjacent to the motherboard, the EK-Quantum Reflection² V3000 Plus D5 PWM D-RGB fits elegantly with the LIAN LI V3000 Plus chassis, enhancing your system's overall appearance.
With the distribution plate installed, your PC will be able to pack the following maximum radiator sizes:
Top: EK-Quantum Surface P480
Bottom: EK-Quantum Surface P480
Front: EK-Quantum Surface S480
Mesmerizing Illumination, Customizable to Perfection
The addressable D-RGB LED strip runs down the unit's entire length, casting a vibrant glow that can be synchronized with other RGB components in your setup. An anodized black aluminum cover conceals unwanted LED hotspots, ensuring clean and customizable illumination.
The built-in addressable LED strip can be connected to the motherboard's 5V header or a dedicated D-RGB controller. It is compatible with numerous popular RGB synchronization software, including MSI MYSTIC LIGHT SYNC, ASROCK POLYCHROME SYNC, ASUS AURA SYNC, and GIGABYTE RGB FUSION 2, allowing you to achieve a coordinated lighting effect across your entire system. 
The EK-Quantum Reflection² V3000 Plus D5 PWM D-RGB distribution plate features a total of 32 LEDs, delivering vibrant and customizable lighting options for endless D-RGB possibilities. 
PWM-Controlled D5 Pump (3rd Generation)
This water distribution plate comes with a powerful yet silent PWM-controlled D5 pump. The goal was to make a product with enough power to offer excellent reliability and outstanding performance with multiple blocks and radiators while keeping the noise down to a minimum. The D5 pump has been updated with the latest G3 variant that comes with a SATA power connector, following the latest PC industry trend of a decreased use of 4-pin Molex cables.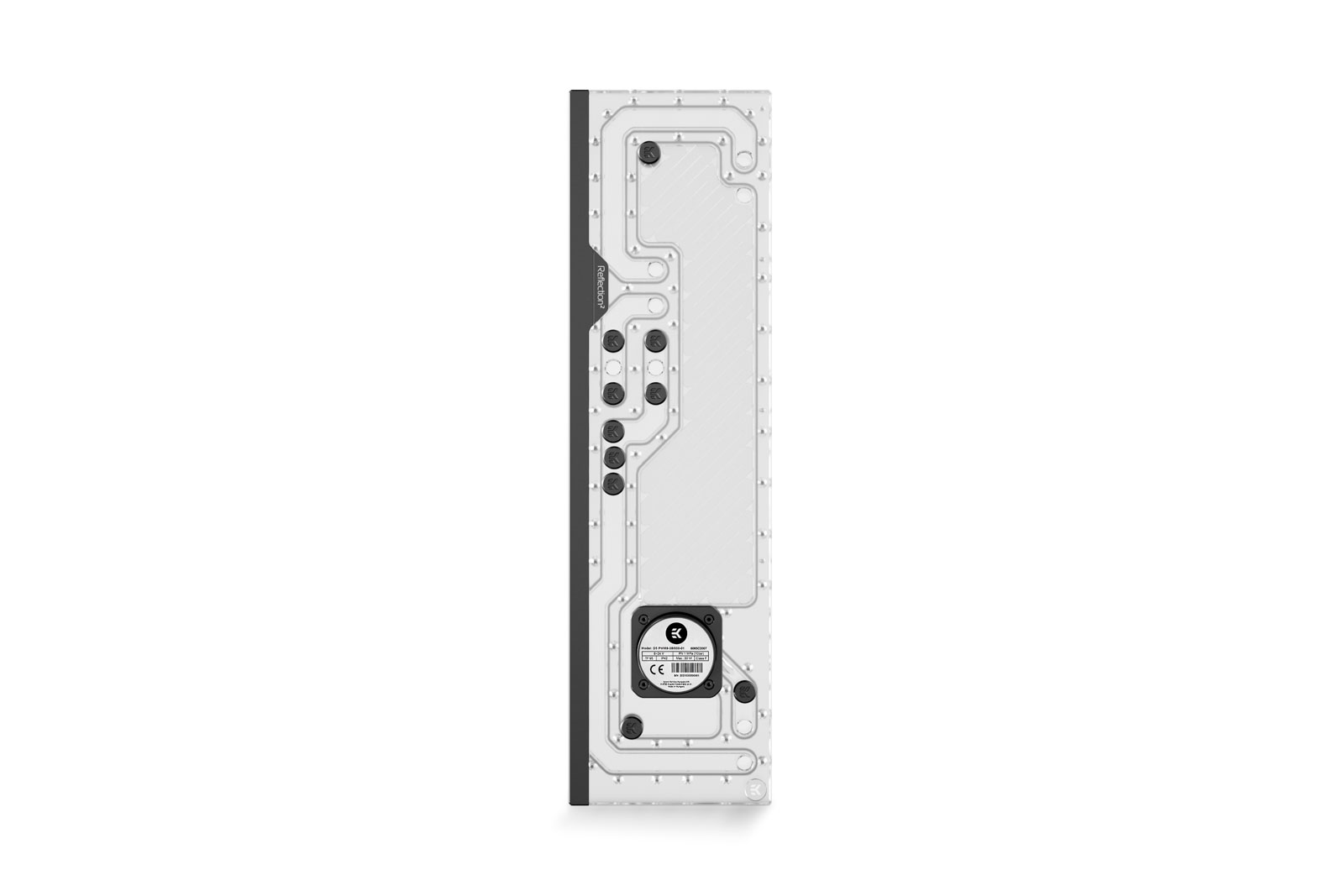 EK-Matrix7 Support
The EK-Matrix7 standardizes the products' dimensions, including the port position and spacing, making liquid cooling loop assembly easier and more intuitive than ever before. EK-Quantum Reflection² distro-plates follow the EK-Matrix7 standard, enabling them to seamlessly integrate with the Vector² GPU water blocks, active backplates, and Quantum Surface radiators. This means you'll spend less time planning the loop and bending the tubes, resulting in an epic, sleek-looking liquid-cooled build.
Technical Details
Reservoir:
Dimensions with the attached pump (W x D x H): 157,5 x 29,5 x 555 mm
Reservoir volume: ~550ml
D-RGB LED count: 32
D-RGB cable length: 500mm
D-RGB connector standard 3-pin (+5V, Data, Blocked, Ground)
Pump Motor Technical Specifications:
Motor: electronically commuted spherical motor
Rated voltage: 12V DC
Power consumption: 23W
Maximum pressure head: 3.9m
Maximum flow: 1500L/h
Maximum system temperature: 60°C
Materials: Stainless Steel, PPS-GF40, EPDM O-rings, Aluminum Oxide, Hard Coal
Power connector: SATA and 4-pin PWM FAN connector
Operational Regime:
PWM duty cycle: ~ 20-100%
Default behavior: runs at 100% duty cycle when no PWM feedback signal is present
Availability and Pricing
The EK-Quantum Reflection² V3000 Plus D5 PWM D-RGB – Plexi distribution plate is available for pre-order through the EK Webshop and partner reseller network. This product is expected to ship out in late June 2023. The table below shows the manufacturer suggested retail price (MSRP), VAT included.
Deli na spletnih omrežjih: