EK Launches Water Blocks for NVIDIA RTX A5000 Graphics Card
Deli na spletnih omrežjih:
EK®, the leading computer cooling solutions provider, is now offering an enterprise-grade GPU water block for NVIDIA® RTX™ A5000 graphics cards. This new water block incorporates a CNC-machined nickel-plated copper base with a laser-cut stainless-steel top for a robust metal cooling solution, effectively making it a single-slot assembly. The EK-Pro Rack GPU water blocks fit the standard Full Height Full Width (FHFW) server chassis form factor, making them a drop-in replacement for dual-slot active and passive air coolers.
EK-Pro GPU WB RTX A5000 – Nickel + Inox Rack water block is purpose-designed for the RTX A5000 graphics cards. This water block directly cools the GPU, VRAM, and VRM (voltage regulation module) as the cooling liquid is channeled right over these critical areas.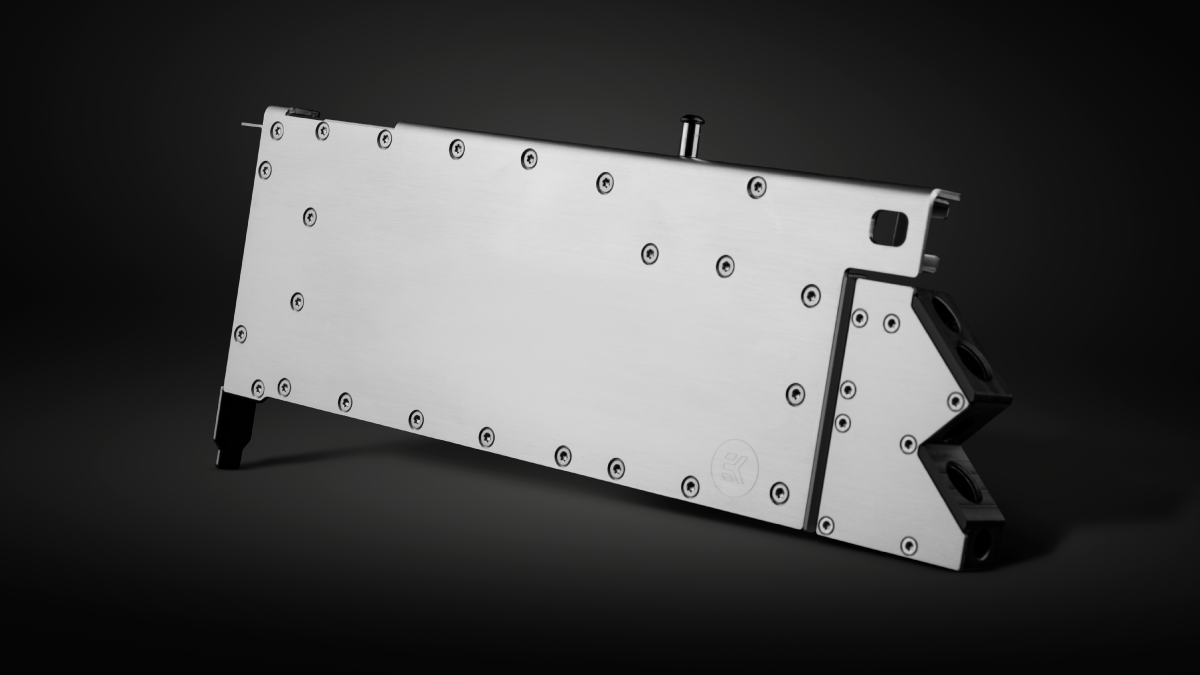 The solution uses an Open Split-Flow cooling engine design that proved to be a superior solution for GPU water blocks. It is characterized by low hydraulic flow restriction, which means it can be used with weaker water pumps or pumps running on low-speed settings and still achieve top performance. The lowered coolant flow requirement makes it an ideal solution for multi-GPU workstations. The jet plate and fin structure geometry have been optimized to provide consistent flow distribution with minimal losses and optimal performances, even when used in reversed water flow scenarios.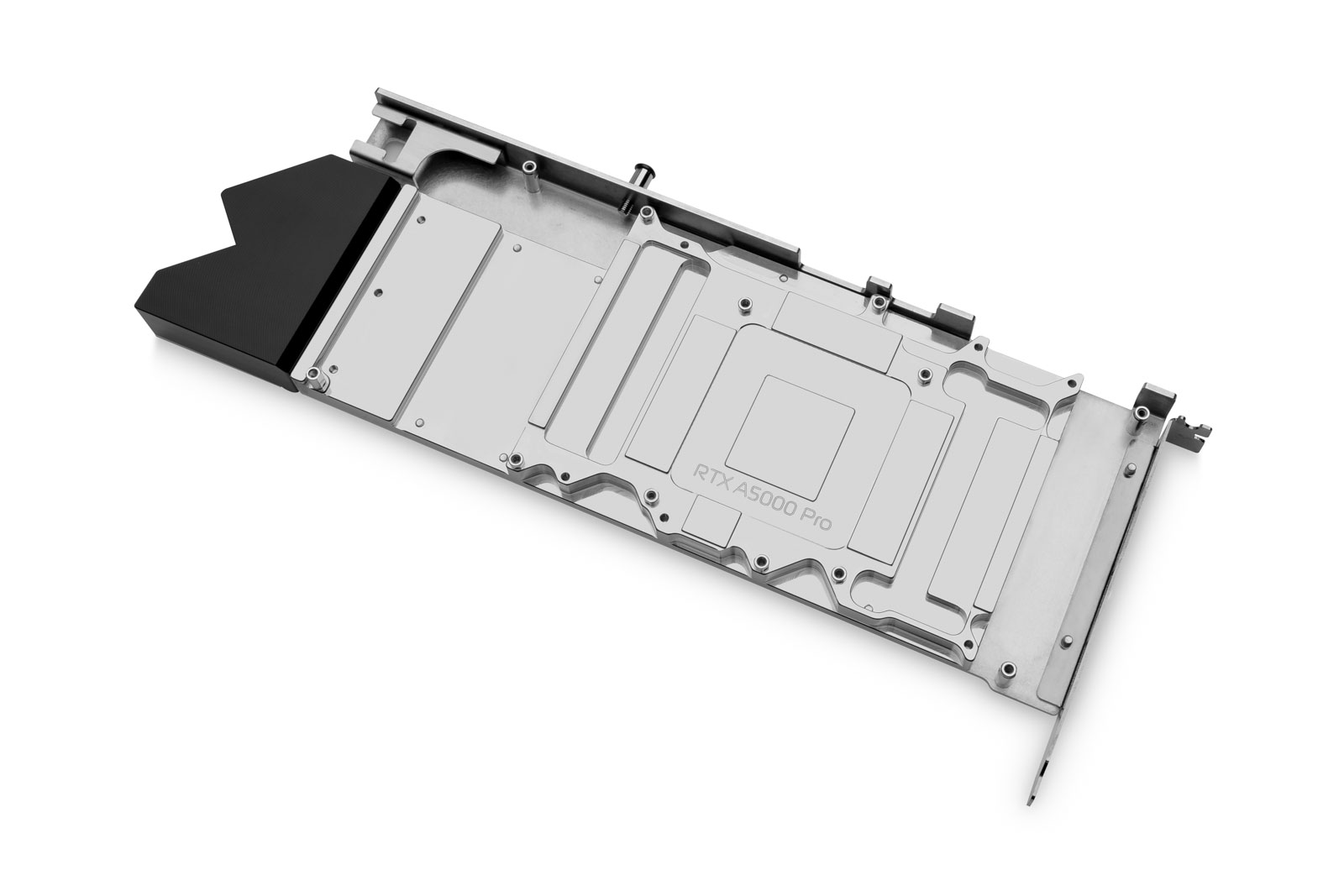 The base of the block is CNC-machined out of nickel-plated electrolytic copper, while the top is laser-cut out of industry-grade stainless steel. The top plate possesses a screw-in PCIe power connector bracket to securely hold the power connector once fully assembled. High-quality EPDM O-Rings ensure the sealing, and the brass standoffs are pre-installed to enable a safe and easy installation procedure.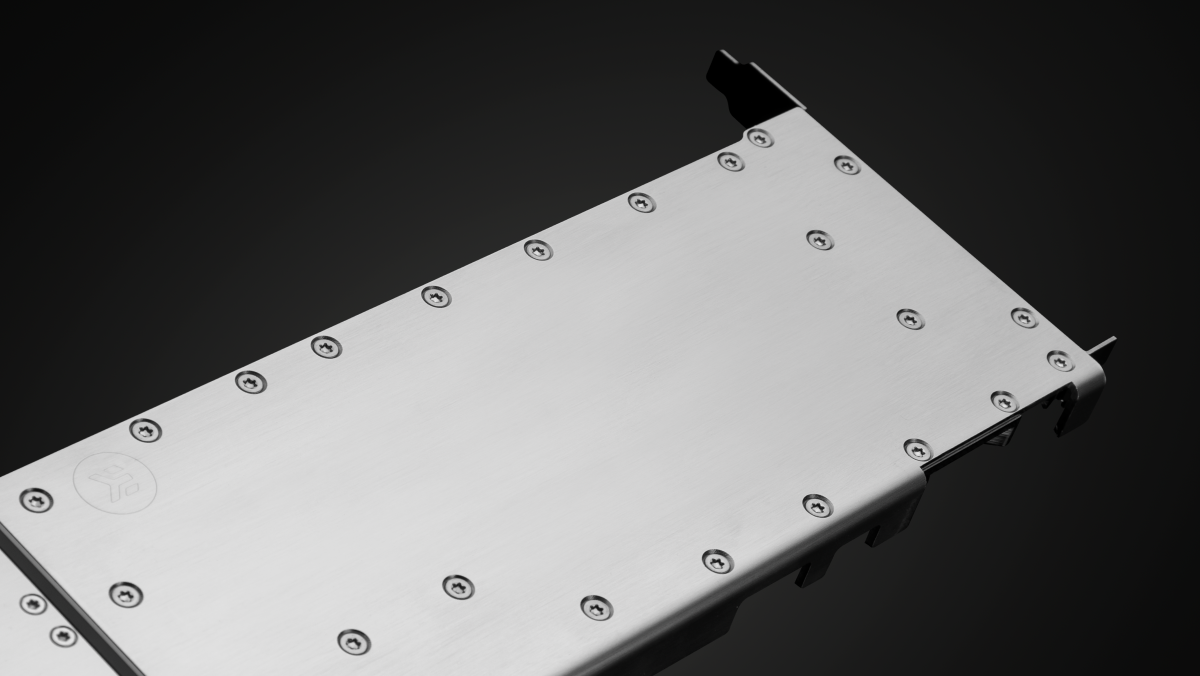 To improve the graphics card's stability and protection, the I/O plate is now a part of the water block top itself. This means that the block replaces the stock I/O shield and adds more sturdiness to the whole assembly. The integrated single-slot I/O plate also benefits more compact workstation and server environments, where space and PCIe slot spacing is at a premium. This design enables the card to consume only a single PCIe x16 slot, leaving its surrounding slots available for other add-in cards.
The aesthetic retention backplate improves your graphics card's looks and structural rigidity while providing passive cooling to the backside of the PCB VRM area. The cutouts in the water block top and backplate enable the entire water block and GPU assembly to be fully compatible with the NVIDIA NVLink connector.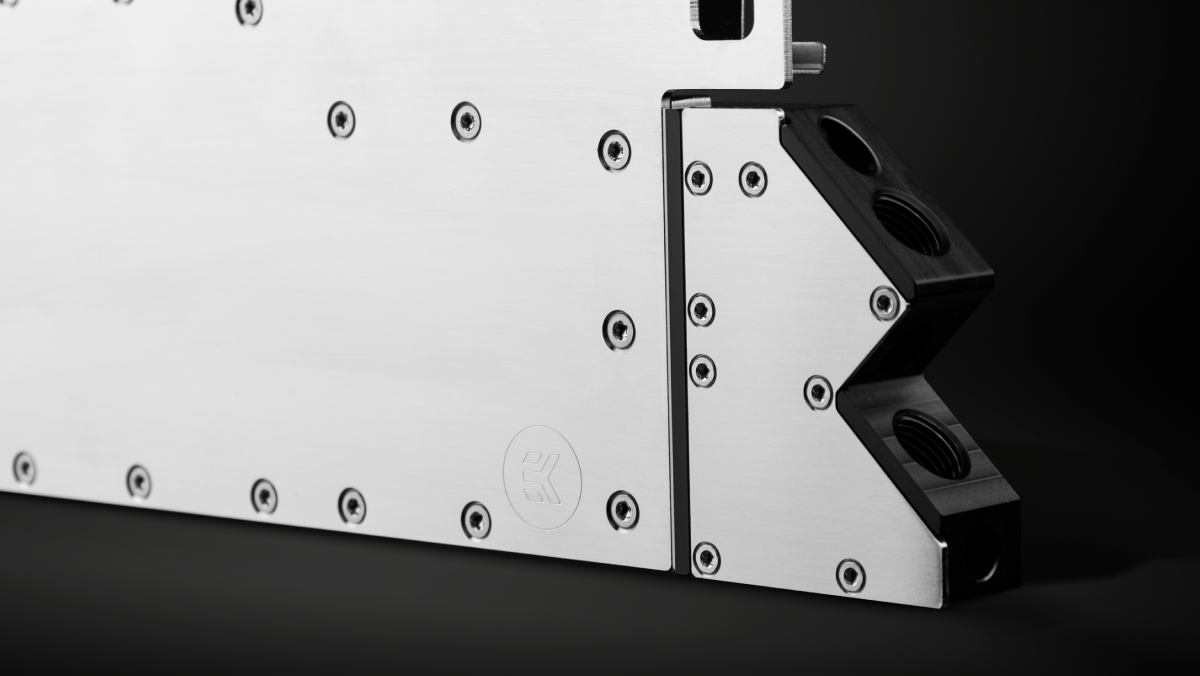 At the back, this version of the EK-Pro A5000 GPU water block features a 45°-angled terminal block made of POM and machined stainless steel. It has two G1/4" ports, allowing easy integration with EK-Pro QDC kits and manifolds for high compute-density applications. Additionally, the water block is equipped with a side-mounted standoff for GPU brace applications, ensuring secure GPU mounting during transport and movement of the chassis.
We recommend you refer to the EK Cooling Configurator for a precise compatibility match. We are checking compatible graphics cards and updating the database daily.
Availability and Pricing
EK-Pro GPU WB RTX A5000 – Nickel + Inox Rack water block is manufactured and assembled in Slovenia, Europe, and is available for pre-order through the EK Webshop. The product is expected to ship out in early December 2022. The table below shows the manufacturer-suggested retail price (MSRP), VAT included.
Deli na spletnih omrežjih: