Wave of Excitation Hits EK Quantum Lineup With New Impulse Fans
EK®, the premium liquid cooling solutions manufacturer, is introducing brand-new magnetic levitation fans, the EK-Quantum Impulse 120 D-RGB. These premium Impulse fans feature EK's most abundant RGB implementation to date, with two LED-lit zones in the frame carrying 12 LEDs each, with another inside the rotor. These fans offer an optimized and balanced performance-to-noise ratio on the wide fan operational range.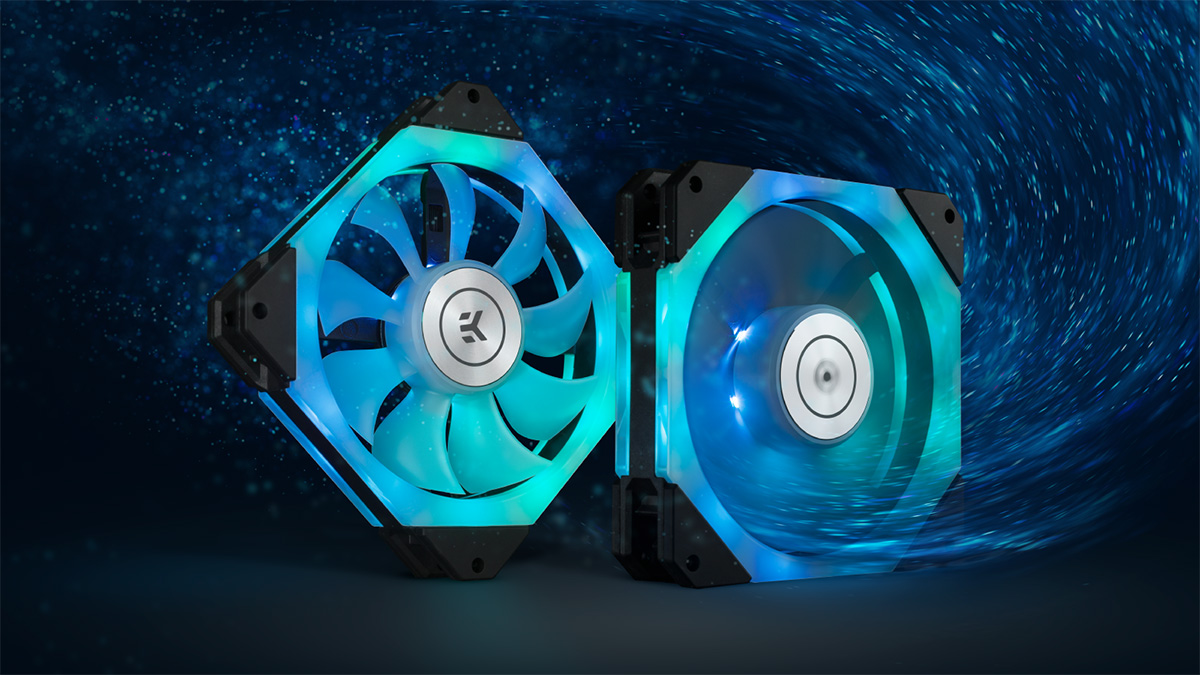 MagLev Fans
EK-Quantum Impulse fans have the VAPO™ bearing and Magnetic Levitation motor.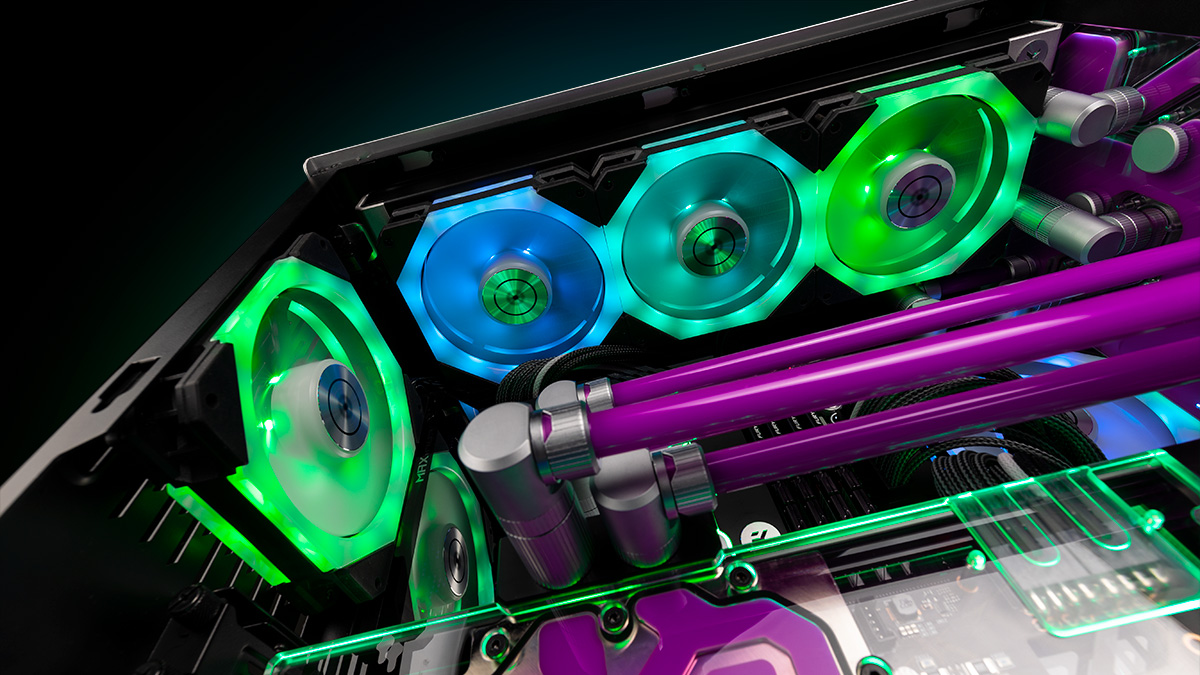 EK-Quantum Impulse 120mm D-RGB
EK-Quantum Impulse are 120mm PC radiator and case fans optimized for rich and lush D-RGB effects while maintaining very silent operation across their entire operational range. There is one LED-lit zone around the frame on both sides of the fan, so no matter which fan orientation you require, you'll get the rich illumination of the addressable RGB diffused through a milky white cover. The rotor is also illuminated by its own D-RGB strip for stylish aesthetics while spinning.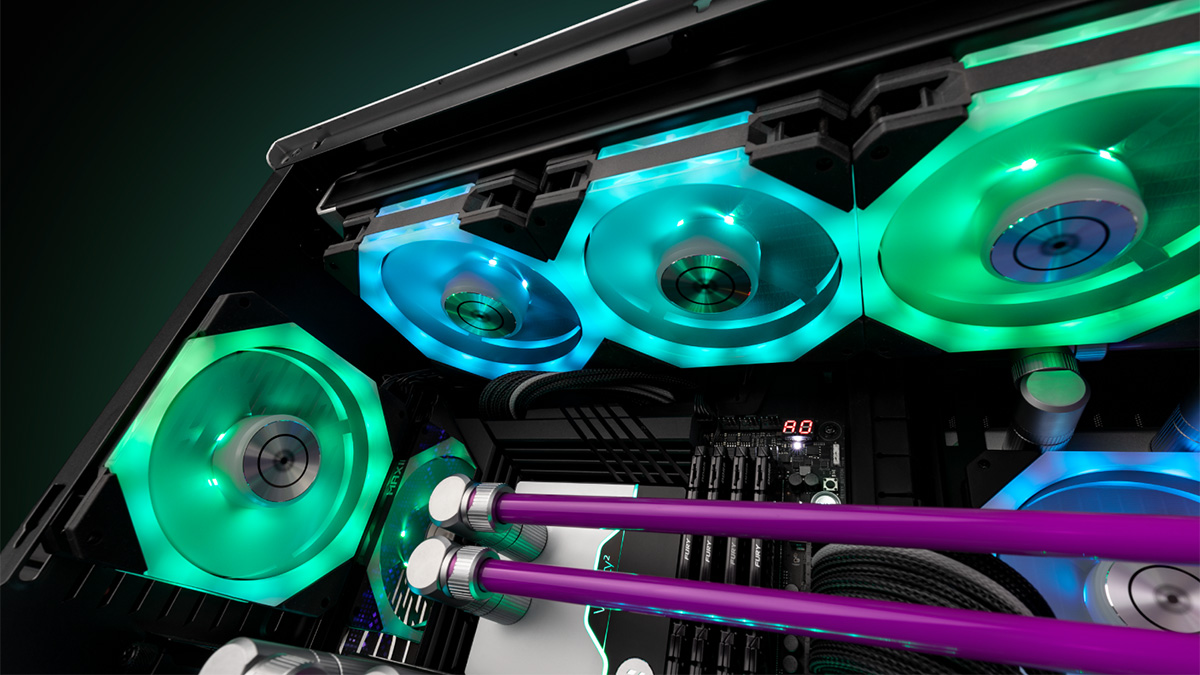 These fans use VAPO bearing, designed to virtually eliminate wobbling, so it stays incredibly stable in all applications. VAPO bearing adds a magnetic effect (magnetic levitation) to the bearing to reduce noise and increase shaft stability. Unlike the traditional ball-bearing fans that get noisier with time, VAPO bearings are dust-resistant and don't dry out. The operating range for these fans is from 400-1800 RPM.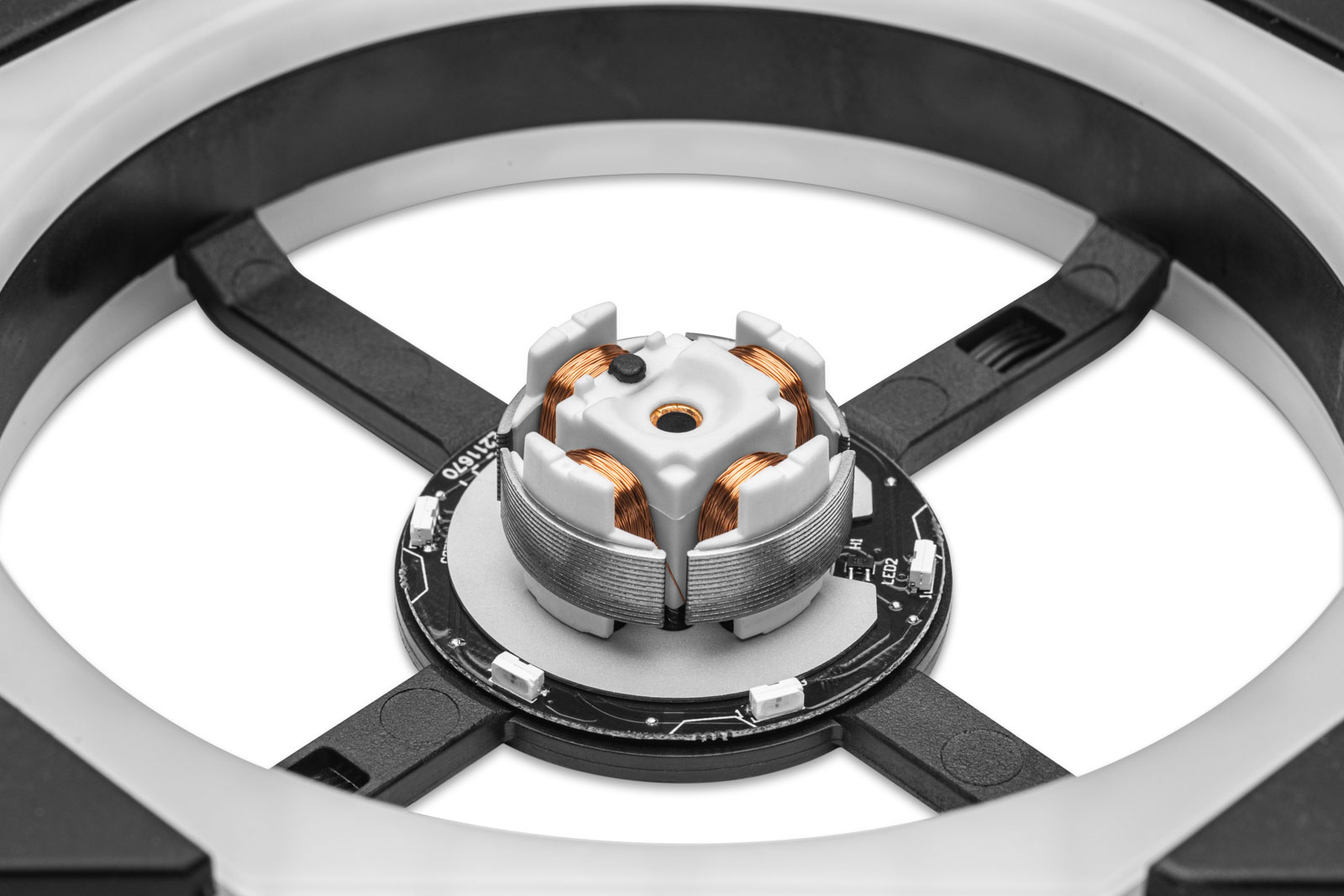 As with FPT fans, Impulse fans also allow daisy-chaining, ultimately reducing cable clutter and easing cable routing through the EK-OmniLink, an 8-pin Micro-Fit connector ecosystem. All the signal and power wiring for the PWM and D-RGB runs on a single cable and connector, which then utilizes another single cable to connect to the source.
Thick rubber corners can be found on both sides of the fan to reduce vibration transfer to the rest of the PC. The fan itself is 26mm thick, with rubber corners protruding 1.5mm on each side for a total of 29mm in depth, bearing in mind that these rubber corners will squish down as you tighten the screws. Unlike fans with circular or incomplete frames, this fan's square frame reduces side air leakage.


Most importantly, the EK-OmniLink ecosystem doesn't require any special controllers since the connection ends in the standard motherboard connectors – a 4-pin PWM for the fan power and a 3-pin 5V D-RGB for the connectors.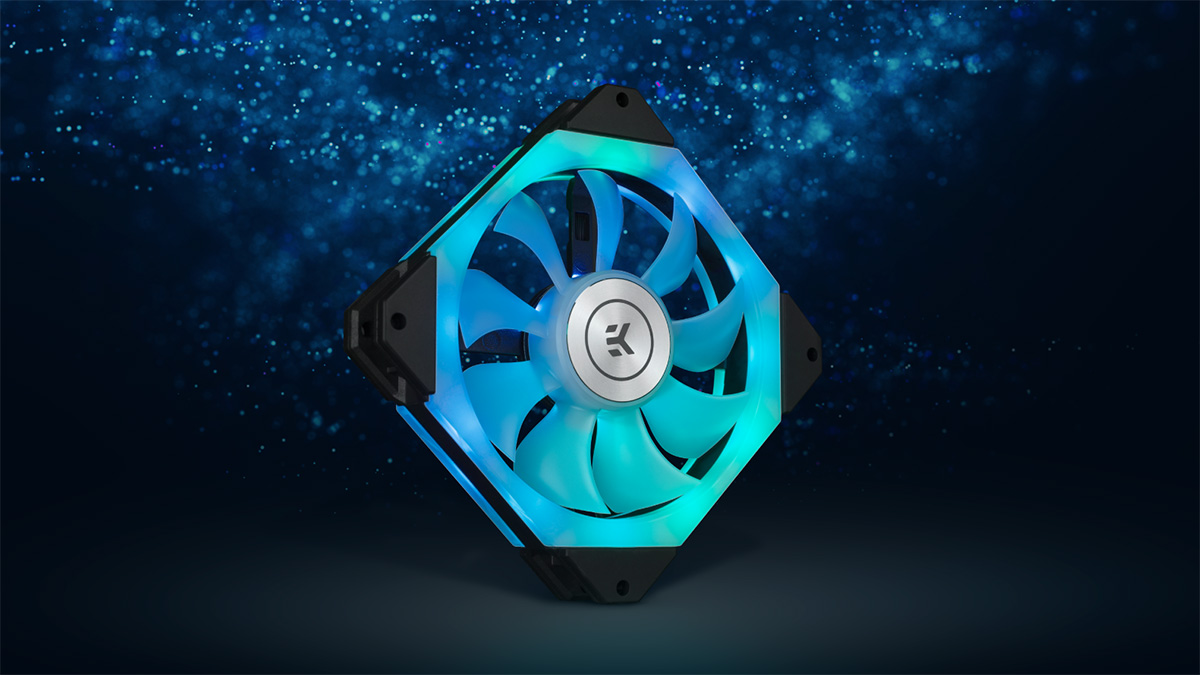 EK-OmniLink
EK-OmniLink solution allows daisy chaining of multiple fans, reducing cable clutter and greatly easing cable management. The Omni-Link interconnect ecosystem will be significantly expanded in the near future for additional benefits. It uses Micro-Fit 8-pin connectors between products, but standard 4-pin for PWM and 3-pin for 5V addressable RGB at the end of the daisy chain.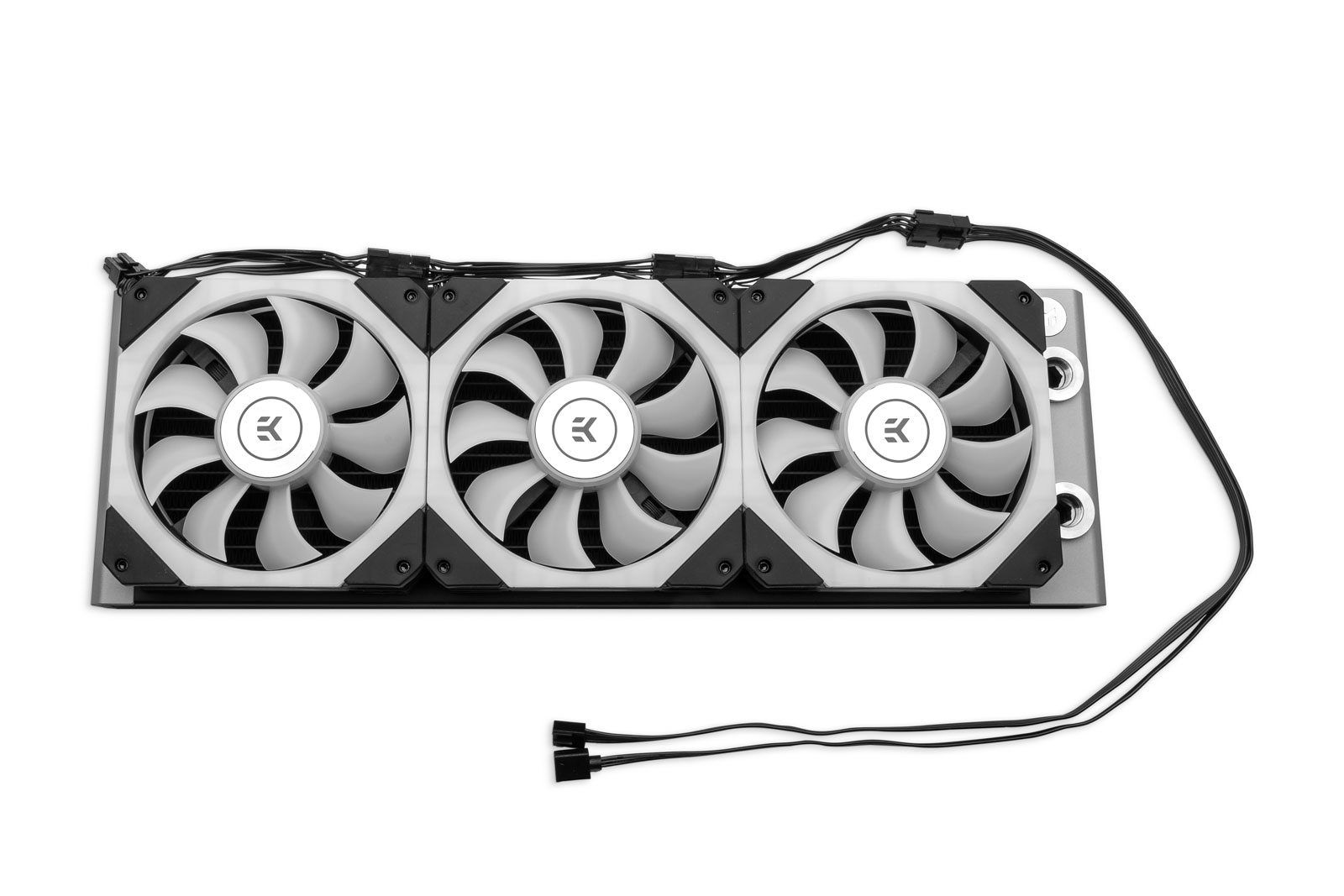 The EK-OmniLink design resolves the cable clutter by unifying the connection of multiple fans to a single PWM and D-RGB header while maintaining complete flexibility when removing a fan from the chain. Other similar solutions on the market use interlocking mechanisms, which require the removal of an entire fan link when you need more room to tighten a fitting on a radiator.
3-Zone LED Illumination on EK-Quantum Impulse 120 PC Fan
One of the main features the new EK-Quantum Impulse 120 fan offers is its simplicity. It utilizes the standard 3-pin 5V D-RGB connection, meaning you can use it with any standard 3-pin 5V addressable RGB controller or any of the popular RGB sync technologies from all major motherboard manufacturers.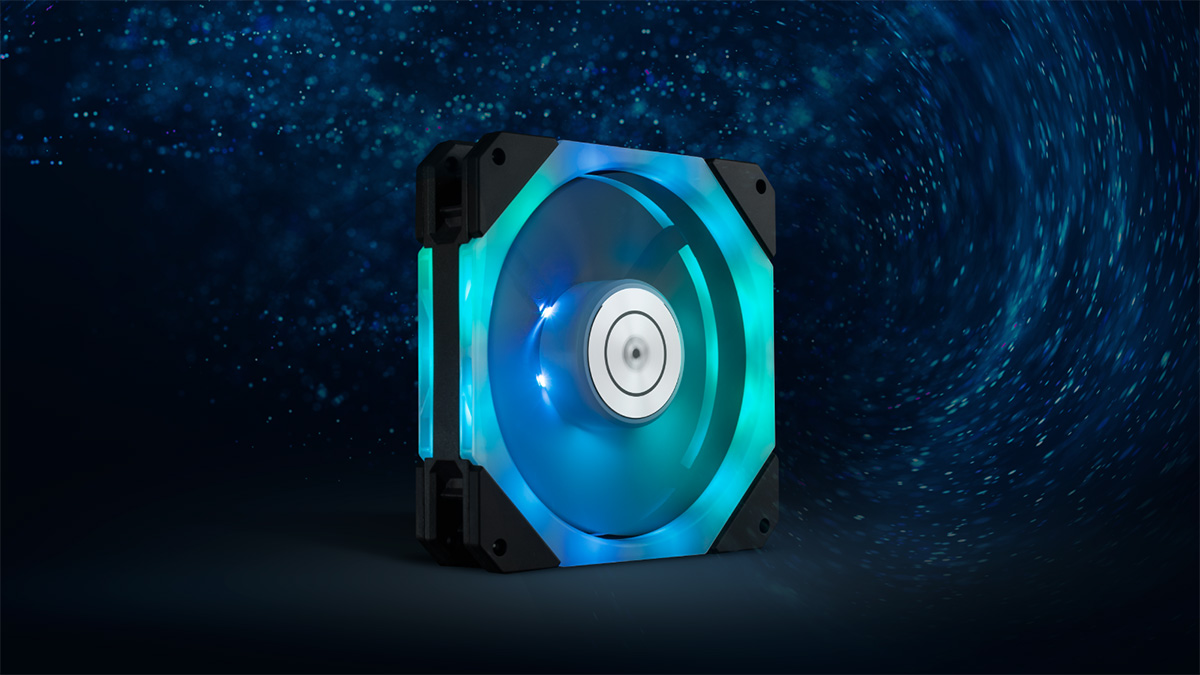 The arrow marking on the 3-pin LED connector should be aligned with the +5V marking on the D-RGB (ARGB) header.

EK-Quantum Impulse 120 D-RGB Key Features
Three Premium LED-Lit Zones
Unlike other EK fans, which have LEDs exclusively in the rotor, Impulse fans have additional LEDs on both sides of the frame.
MagLev and VAPO Bearing
The VAPO bearing adds a magnetic effect (magnetic levitation) to the bearing to reduce noise and increase shaft stability.
Square Frame for Airflow Focusing
The practical square shape of the fan frame provides optimal performance in either the pull or push regime without hydraulic losses, which ensures the optimal cooling capacity of your liquid cooling radiators.
Standard D-RGB Connectors
The EK-Quantum Impulse 120 fan's D-RGB lighting does not require any fancy or expensive additional controller for you to enjoy vibrant light effects. A simple 3-pin 5V addressable D-RGB connection for standard controllers or any popular D-RGB (ARGB) sync technology from major motherboard manufacturers is all you need.
OmniLink
The ability to daisy chain fan power, D-RGB, and even pump power across a single cable gives you the ultimate flexibility while reducing cable clutter. All the cables are flat ribbon style with no additional sleeving for an even better cable routing experience.
Availability and Pricing
The EK-Quantum Impulse 120 D-RGB – Black fans are readily available through the EK Webshop and Partner Reseller Network. In the table below, you can see the manufacturer-suggested retail price (MSRP), including VAT.